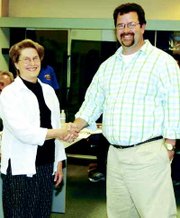 Superintendent Sandra Pasiero-Davis introduced Jay Tyus at the Mabton School Board meeting last night, June 26. He is the new Mabton Jr./Sr. High School principal. He replaces the retiring Keith Morris.
Tyus and his wife, Julia, and their five children are moving from Waterville. They are looking to take up residence between Mabton and Prosser and said they are amazed at how populated the area is. They are accustomed to driving quite a few miles without seeing any homes.
Tyus is a graduate of Eastern Washington University. He received his Bachelor's degree in chemistry and had minors in physics and math.
For his Master's degree he focused on curriculum and instruction.
His wife is a special education teacher who specializes in working with the visually impaired.
Tyus said he is excited to be at Mabton Jr./Sr. High School because the school has embraced college readiness. "All students deserve to choose their future," he said.