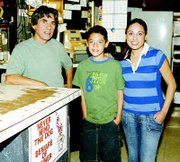 MABTON - The spaghetti sauce was bubbling, throwing its appetizing smell throughout the Silver Dollar Inn, as Art Jasso hurried over to give the sauce a few stirs.
"We're coming into this thing blindly," he says between stirs. "We don't know anything about the bar or restaurant business."
But Jasso does admit to being somewhat of a "back yard cook" and has picked up some decent recipes over the years. "The customers seem to like our food," he said.
Jasso and his brother Pete Jasso bought the long-time bar located at 324 B Street from Mike Chester May 1. Chester owned the bar for 31 years, Jasso said. It was also a bar before Chester had it.
The Jasso brothers are from the area and went to school in Grandview. Pete Jasso retired from the United States Air Force after 23 years and has been living in California for the last 15 years.
"My brother is retired but he still wanted to do something," Art Jasso said, explaining why the brothers bought the bar. "It's a good opportunity for me, too."
The former fabricator and the retired airman now run the business with the help of their family. Art's wife Rose, his daughter Sarah, sister-in-law Luz and sister Irma all pitch in to help.
The family isn't going to try and re-invent the wheel. "We're keeping most of what's on the menu," Sarah Jasso said, but added the daily specials have changed. "We're bringing in our family recipes," she said.
The spaghetti made that day went over well with the lunch crowd. Their pot roast sandwiches are popular, too. Mexican dishes are also going to be served for the lunch specials. Pizza will also still be served at the Silver Dollar Inn. "We have very good pizza," Sarah adds. "We use only fresh ingredients on our pizzas."
The Silver Dollar Inn inhabits what used to be a theater. The stage is still there and the Jassos plan on utilizing the space. They hope to have dances on a weekly basis. The dances will have D.J.'s until they get established and then they hope to bring in live music.
Karaoke will also be offered during the week days.
"For my buddies that are musically inclined we will have an open mic set-up on Sundays," Art Jasso said. He plays the guitar and the harmonica and is looking forward to jamming with his friends on Sunday. Anyone who can play are invited to jam.
The Silver Dollar Inn has a full bar with five beers on tap and several more in bottles or cans. "Our popular drinks right now are watermelon and apple jolly ranchers and spider bites," said Sarah Jasso.
Over time the Jassos plan to remodel the bar somewhat but for now are happy with the way it its. Soon they hope to bring pull-tabs to the bar as extra entertainment for their customers.