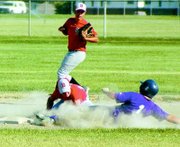 A visiting Richland team broke open a tight game to defeat the Sun Valley 14/15-year-old Babe Ruth baseball team by a score of 14-4.
The game, which went five innings due to the 10-run rule, opened with a 2-2 tie.
But Richland broke out the bats in the fourth inning with a six-run rally to pull away from the Sunnyside squad.
The guests built their lead to 14-2 before Sun Valley answered with two in the bottom of the fifth for the final runs of the game.
While Richland's bats helped break the game open, Sun Valley hurt its own cause with four errors to surrender eight unearned runs. Sun Valley starting pitcher Travis Jones went the distance, giving up six runs in five innings of work.
Sun Valley was led by Lane Pickel, who collected one RBI and scored two runs by coaxing a pair of walks. Teammates Mario Sanchez and Alex Aguilar also had RBIs via walks.
Sun Valley's three hits for the game were delivered by Jonathan Hysell, Jasper Rubacalva and Oscar Hernandez.
Sun Valley (7-8) will try to even its record in its regular season finale at home at 5:30 p.m. tonight against a Richland team.