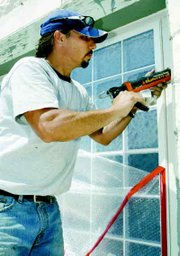 With the temperatures rising across the state this week the Department of Labor and Industries (L&I) said employers and workers should take precautions to prevent heat stress for anyone working outdoors.
According to L&I, workers should drink plenty of water, even when they are not thirsty, and take regular breaks. Workers should also wear light clothing and adjust to the pace of the work. A worker who begins feeling ill should stop work immediately and take steps to cool down.
"We've seen the temperature jump significantly in just the past two days, from the mid-70s to 90 and even 100 degrees in some parts of the state, so workers may not be adapted to the hot weather," Steve Cant, L&I's assistant director for safety and health, said. "Heat stress is a serious health issue and can quickly escalate to heat stroke, which can cause death. Everyone who works outdoors in hot weather needs to take precautions."
To protect yourself and co-workers from heat stress while working outside in hot weather, L&I recommends:
• Drink plenty of water, even when not thirsty. Sip small amounts often.
• Try to do the heaviest work during the cooler parts of the day.
• Adjusting to the heat takes time, start slower and work up to your normal pace.
• Wear light, loose-fitting, light colored breathable clothing such as cotton and a hat.
• Take regular breaks in the shade.
• Avoid alcohol or drinks with caffeine before or during work.
• Watch co-workers for signs of heat exhaustion or heat stroke.
• If you start feeling symptoms (lightheaded, headache, nausea, dizziness, etc.), stop what you're doing immediately and take steps to cool down. Tell a supervisor.
L&I said if someone thinks another person is suffering from heat stroke, they should seek medical help immediately by calling 911. Some signs of heat stroke to watch for are no sweating, looking red or flushed, skin hot and dry, rapid pulse, headache, blurred vision, dizziness or fainting, difficulty breathing, pinpoint pupils, unusual behavior, convulsions and collapse.
This year L&I adopted an emergency rule requiring employers with outdoor workers to have a safety plan in place to protect workers from heat-related illness during hot weather. Additionally, other rules require employers to provide drinking water and first-aid training.
Training materials to help workers cope with heat are available by calling 1-800-574-2829 or at the L&I website at www.LNI.wa.gov.
Another risk associated with working in the sun is skin cancer. According to the Washington State Department of Health, one in five people will develop some type of skin cancer. Melanoma, a variety of skin cancer that can kill, is on the rise in Washington state, where incidents in the state are greater than the national average.
"Sunny days can come and go very quickly in our state and it is tempting while the sun is out to get all of it we can," Dick Hoskins, a health department epidemiologist, said.
The department of health recommends wearing wide-brim hats and long sleeved shirts and pants to reduce the risk of skin cancer. Apply sunscreen with sun protection factor of at least 15 and reapply sunscreen throughout the day.