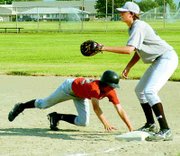 RICHLAND - The host Richland team exploded for 11 runs in the first four innings enroute to posting an 11-1 victory over the Sun Valley 13-year-old Babe Ruth baseball team.
After Richland scored four in the bottom of the first, the Sunnyside team responded with its lone run of the game in the top of the second as Rigo Valdez stole third base, then scored on a passed ball.
The hosts put the game away with four more runs in the bottom of the second and three in the fourth.
"They hit the ball hard," Sun Valley Coach Jaime Garcia said of Richland's 15 hits for the game.
Rigo Valdez and Danny Valdez each had a hit for Sun Valley.
The Sunnyside team (0-13) ends its season tonight at 5:30 p.m. with a home game against another Richland team.