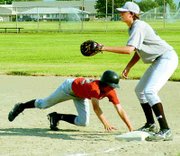 A see-saw game through five innings went south in a hurry, as the Sun Valley 14/15-year-old Babe Ruth baseball team surrendered 17 runs in the sixth inning in a 24-7 home loss to Richland yesterday.
Combining small ball with timely hitting, the Sunnyside club pushed out to a 3-1 first-inning lead, thanks to RBI's from Angelo Salinas and Lane Pickel.
From there the lead changed hands inning by inning, until the score was knotted at 7-7 after five frames.
Richland, which mustered only nine hits for the game, benefited from 14 walks issued by Sun Valley pitching in the top of the sixth inning.
"The wheels really fell off the wagon," said Coach Tom Schmick, who tried four different pitchers during the pivotal sixth stanza. "We couldn't find the strike zone."
Sun Valley had seven errors for the game, and suffered from miscues in the sixth, as well. "We committed an error on the first batter and couldn't get an out," Schmick said.
The loss ended Sun Valley's regular season with a record of 7-9.
"We haven't had one of those kind of games yet this season," Schmick said of the sixth inning collapse. "I usually have one of those kinds of games each year. Hopefully we got it out of our system for this year."
Schmick hopes because Sun Valley still has the District Babe Ruth postseason tourney this coming weekend.
Sun Valley begins play at 6:30 p.m. Friday at Richland in the double-elimination, 14-team tourney.
If the Sunnyside team loses, it will play Saturday at 8:30 a.m. A win on Friday would put Sun Valley into an 11 a.m. playoff game on Saturday.