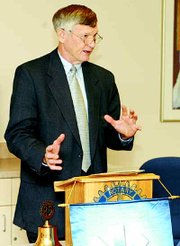 The message Dan Olson sent to the members of Sunnyside's Daybreak Rotary Club Wednesday morning was the valley needs to have unity.
"Unity brings greater results for all," he told the Rotarians.
Olson is a land developer from Union Gap and is running for county commissioner for district 3.
As part of his unity plan Olson spoke about a group in the upper valley called Transaction. He said this group has strong partnerships between the cities, businesses, community groups and others. They go to state and federal legislators to ask for money for transportation projects and such. He said the city of Union Gap received $30 million for improvements to Valley Mall Blvd.
Olson said that building partnerships will increase economic and social vitalities for the communities in the valley. He mentioned the Prosser's Best Run this Saturday, July 1. This run is in honor of Marvin Best, a Marine killed in Iraq. Olson said last year 300 people entered the race and this year more than 1,000 are expected. He said if the race draws up to 3,000 people, Sunnyside and other towns in the valley will benefit. Because of this, other towns should show cooperation in making any event successful.
Olson also spoke about the Black Rock Reservoir being planned.
"It's a great idea," Olson said of the proposed project. "But, we need a reliable water source now. It is essential to the cities, farmers and everyone involved. If we don't have a more dependable water source, Yakima Valley will continue to suffer."
Saying it's going to take a strong coalition, he proposes building a pipeline from the Columbia River and tie it in to the existing system in Sunnyside. He said 98 percent of the water in the river goes out to the ocean. Instead, Sunnyside's canals will be full even in time of drought.
He admits getting the water rights and finding a withdrawal point will be tough but adds we have to try. "If we don't start now it will never get started," he claimed.
He finished with a quote he heard Reagan say. "It's amazing what can be accomplished when no one cares who gets the credit."