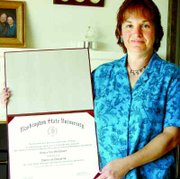 Six years of hard work have paid of for one local woman. Sonja McDaniel of Sunnyside has recently completed her Doctorate of education degree with a focus on curriculum and instruction.
She grew up in Coos Bay, Ore., where her curiosity with the English language began from the time she began to talk. Her father was interested in other languages, which soon led McDaniel down a path. When she turned 12, she had the opportunity to take private lessons from a native French speaker.
Throughout high school McDaniel studied French, and continued to master the French language as she went to college. After receiving her Bachelor's degree from Pacific Lutheran University with a double major in English and French in secondary education, she went on to receive a Master's in bilingual and bicultural studies degree from Washington State University.
McDaniel completed her Doctorate of education degree in curriculum and instruction with a dissertation entitled, "Pedagogy in a Kindergarten Dual Language Enrichment Classroom: A Qualitative Case Study."
The process of obtaining a Doctorate degree is demanding. There is a preliminary exam, term papers have to be developed and written in a setting that only allows one to recall from memory the sources used, a proposal has to be developed and after much research the dissertation has to be written.
A dissertation is not just a term paper that can be thrown together in a short time, it is a deeply involved study that has to be of publishing quality. McDaniel's dissertation is a hard-bound book that went through many revisions.
While working towards her many degrees, McDaniel has raised a son who is a teacher, taught grades K-12 for 25 years, and has most recently worked for a regional agency in a position that involves professional development for teachers to support them in providing quality instruction for English language learners.
Her hard work has brought her on a journey that is just beginning.
"I would tell anyone who is entering the profession to work with English language learners to stay committed to that purpose and not take criticism, ignorance or misunderstanding from others personally," McDaniel said.