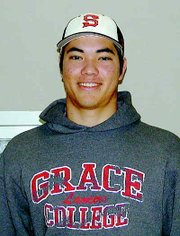 Sunnyside High School senior Joel Zakahi will continue his baseball career at Grace College in Winona Lake, Ind.
Zakahi signed a letter of intent to play for the school beginning this fall.
At Sunnyside, Zakahi, 17, has played both outfield and pitcher for the Grizzlies. As a junior he hit .433 and on the mound he posted a record of 5-1 with an ERA of 4.06.
Zakahi was named to the Mid-Valley League's all-league first team last season, which was his first season of varsity baseball.
Sunnyside Coach Dave Martinez said Zakahi has progressed well in his time in high school.
"Joel has developed into an outstanding baseball player," he said. "Joel's leadership and the way he leads by example have made him a unanimous choice for captain chosen by his teammates."
Zakahi said there were several reasons he decided on Grace College. Both his parents went to school there, he said. The college is also associated with the church he attends, Grace Brethren Church in Sunnyside.
"I'm excited about just continuing to play baseball," Zakahi said.
While attending school there he said he'll likely major in history or business, but that could change depending on how he likes the majors.
Now that he's chosen where he's going to school, he said it's nice to know his senior season won't affect his chances to play college baseball.
Zakahi said he's unsure about whether he'll just pitch in college or play outfield like he's done at Sunnyside.
But in going to school in Indiana, he said it might be tough to adjust to being away from friends and family.
"It'll be hard," he said. "I'll miss my family and friends. I've never been far away from anybody."
Before that happens though, Zakahi has his senior season to play.
Sunnyside begins its baseball season on Saturday, March 11, against East Valley.