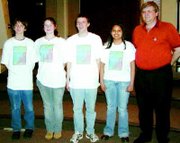 YAKIMA - Hoping to advance to the state competition, Sunnyside High School and Grandview High School sent its teams to Yakima last Monday to compete in the ESD 105 Regional Knowledge Bowl at Davis High School.
The competition began with a written round where the team members worked together to answer 60 questions in 45 minutes. Each correct answer is worth one point. During this round the team from Grandview scored 35 points. No results of round scoring were available for Sunnyside High School
After the written round, three oral rounds followed. Three teams competed against each other. Grandview was with East Valley and Toppenish for all three of its oral rounds.
Grandview scored 9 points in the first round, 8 points in the second round and 8 points in the third round for a total of 60 points.
This garnered them a third place finish behind East Valley (90) and Toppenish (77) in the 2A class.
Sunnyside High School, also with a third place finish, finished with 61 points in the 3A class. West Valley took the top spot in 3A with 106 points, the top score in the entire competition, and Ellensburg place second with 90 points.
"We were competitive," Grandview Knowledge Coach Kelly Ledgerwood said. "I'm pleased with how we did. Toppenish put up a huge number in the written round (50) and it was hard to come back from that but we did well."
The winning teams from each division received individual medals and a group trophy, and all students in the competition received event pins.