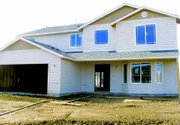 Almost half of the total of building starts in January came from construction at Mid Valley Mall on Fiesta Foods. The building is valued at $2,367,857 by the city's building department.
The city collected more than $17,000 in permit fees for the construction project.
A $500,000 industrial building under construction on East Alexander Road comes in a distant second on the list of the most valuable projects for which a permit was issued in January, according to the Sunnyside Building Department.
The permit for the building was issued to Dahlgren Industrial Inc. of Seattle, which will build silos on the property.
The city collected $5,300 in fees from the permit issued to the company.
A building permit was issued to Terry Patrick Contractor, Inc. for a building remodel valued at more than $490,000 on Yakima Valley Highway.
The city collected more than $5,200 in fees for permits issued for the job.
The building department also issued seven permits for single family homes in the month of January.
Aho Construction I, Inc. of Vancouver was issued all seven of the permits for the new homes.
A house on South 14th Street tops the list of most valuable new houses under construction. The house, which will contain more than 3,600 square feet of space, is valued at $270,000.
The city collected $2,400 in fees from permits issued for building, mechanical and plumbing.
Aho Construction will construct two houses in Sunnyside which will be identical in square footage and value. Houses on South 15th Street and Kristen Avenue will both contain more than 3,100 square feet and will be valued at $245,000.
In total, the seven single family homes being constructed account for more than $1.3 million in building starts.
The average value of the home being constructed is $188,000.
Water and sewer connection fees coupled with water meters for the new houses gave the city close to $9,000 in additional fees.
In total, Fiesta Foods, industrial construction, a building remodel and new home construction account for almost all the building starts for the month of January. Other smaller projects make up the rest.
The city issued 90 permits in January, with 29 permits being issued for building projects. Another 14 permits were issued for mechanical projects and 19 were issued for plumbing jobs.
Building inspectors spent a good portion of their time doing inspections at new single family houses. Inspectors made 132 inspections at the houses in January. They made 252 total building inspections.
Including building, mechanical, plumbing and other inspections, inspectors made 436 inspections of sites.
Total square footage for the month of January was close to 69,000 square feet. That number is a drastic jump from December, in which new square footage was close to 17,000 square feet.