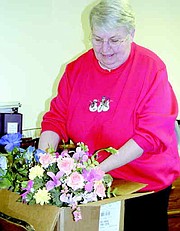 Sunnyside city hall employees and the police department were scrunched together in a building behind the fire department when Judie Essary began working for the city in 1980.
"As you can imagine it was rather crowded over there," she chuckled as she looked over at the former city hall/police post, now a parking lot, at Eighth Street and Edison Avenue.
Essary was looking at the lot from her deputy clerk's office window in the city hall building, formerly an accountant's office, that Sunnyside moved into about 15 years ago at Ninth Street and Edison.
Essary, 64, is in her final month of enjoying that window view, looking forward to retirement effective after her last day on March 30.
"I'll miss the people the most," she said in an office that already shows signs of change, with flowers and other personal mementos tucked carefully away in boxes.
Formerly a legal assistant in a Sunnyside law firm, Essary began her employ at city hall as a legal assistant to the city attorney.
"I think it was the luckiest day of my life when the law firm I worked for decided to transfer to Yakima," Essary recalled, noting the strong benefit and retirement package she receives as a public employee. "I didn't want to commute to Yakima and I had a legal background, so it was a pretty smooth transition in working for the city attorney."
After passing up an earlier opportunity to apply for the deputy clerk job, Essary took a chance nine years ago when she applied for and was hired to fill the deputy clerk position she now holds.
As deputy clerk she also holds the title of Assistant to the City Manager, putting Essary more in contact with day to day happenings in city government.
"What I appreciate most about Judie is the calm confidence she has in doing her job every day," noted City Manager Bob Stockwell. "She cares about the people and that's one of her most valuable attributes."
Her job makes her a visible employee for the city, requiring her to attend and record the minutes for every Sunnyside City Council meeting.
The council has in the past met every Monday evening, but now meets the second and fourth Mondays of each month.
"I really enjoy it once I'm there," she said of the meetings. "But sometimes it's not easy when you go home and have a sandwich, and then have to go out the door again (to a meeting)."
Her more than a quarter-century of service to the city, though, has seen more changes than just the frequency of city council meetings.
"Back then there was no such thing as an ambulance service," she recalled of the early 1980's. "There was a vehicle out of the funeral home that picked people up, but there were no paramedics to keep you going."
In noting the expansion of police, emergency and fire services over the past 26 years, Essary also pointed to the progress at Sunnyside Community Hospital. "That's something to really be proud of," she said.
New building construction and growth have been a hallmark of change over the years, as well.
Sunnyside had a population of about 9,000 souls when Essary began working for Sunnyside. Today its population numbers about 14,000.
"There are so many new businesses now," she observed. Essary added the shopping centers that have grown up in town were farmland when she started going to work at city hall.
One change over the years may be coming full circle.
"The paperwork has really grown," she laughed. "When I first started, Yakima Bindery would drop off a box or two of paper. Now a semi pulls up in the alley and unloads pallets of paper."
That trend may be reversing, though, as Sunnyside in the next few months will be going to paperless council meetings.
Essary explained that all documentation for the meetings will be available for downloading at the city's website.
Paper copies of the agenda will still be available to the public, but the paperwork for council meetings will be greatly reduced as each council member will have their own computer to review documents.
"I think it's going to be exciting," she said of the paperless move. "I'm going to miss being in on that."
She may be retiring, but she will contract with the city two days a week to help out as an assistant to the city prosecutor.
While she will miss the camaraderie with her co-workers as a full-time employee of the city, Essary said she's looking forward to a little more sleep after retirement.
"You have to get up pretty early to be here by 7:30 a.m. every day," she said.
Essary said her plans after retiring include working around the house and yard she and husband Don share just outside of Sunnyside.
"I want to get my house and yard looking perfect," she said with a big smile.
The Essarys also have horses that Judie looks forward to tending to. "They're just spoiled pasture ornaments!" she laughed.
Essary said she is looking to her last day on March 30, which also marks her 65th birthday, with a mixture of happiness and sadness.
"I've just always loved my work. There's something different every day," she said of her deputy clerk job. "You come in on a Monday thinking of what you have to do and you're lucky if you get to it before Friday! There's always something new and these are great people to work with."
Still, retirement calls.
"I've waffled a few times, back and forth," she reflected on her decision to retire. "I've looked out there and seen a lot of people younger than me not make it that far and figured I better get out there and enjoy it."
While taking another look out her window, she added wistfully, "But it hasn't been a big chore for me to go to work here, I really enjoy it. I can't imagine going to work and not enjoying it."
And, after 26 years, Sunnyside can't imagine city hall without her.