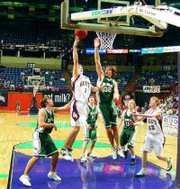 SPOKANE - It wasn't a game for fans of high-scoring, run-and-gun basketball Thursday night when Sunnyside Christian met Northwest Christian in a State tourney quarterfinal game.
It was physical, and it was intense. It was close, too. But in the end it was the Knights who were the victim of a last-second shot as Northwest Christian's Chase Ramey scored a bucket with 0.9 seconds left to lift the Crusaders to a 33-31 win over the Knights.
"We had plenty of offensive opportunities throughout the game," said SCHS Coach Dean Wagenaar, whose team scored a buzzer-beater the previous night to eke out an opening-round win at State.
Thursday, both teams missed plenty of opportunities as each shot less than 40 percent from the field. The Crusaders hit just 36 percent from the field.
But the Knights shot worse than the Crusaders, hitting just 9-of-32 from the field, or 28 percent.
The Knights jumped out to an early 9-4 lead at the end of the first quarter.
From the beginning both teams played physical defense, which went on all game long.
Wagenaar said the Crusaders were particularly physical with senior Chad Den Boer, who shot eight free throw attempts on the night, connecting on six of those.
"Den Boer got beat up pretty bad," Wagenaar said.
In the second quarter, Sunnyside Christian maintained its lead before having it cut to just three points, 15-12, as both teams went to the intermission.
The Crusaders shot out of the blocks to begin the second half. Northwest Christian scored nine straight points to open a 21-15 lead.
Sunnyside Christian clawed back into the game, but stagnated a bit after Joel Koopmans missed a three-pointer that was three-quarters of the way down, but popped out, just over a minute into the third quarter.
Northwest Christian built its lead to as many as six points, but Sunnyside Christian was able to chip away and trailed by five points to start the final period.
A quick field goal by Brandon De Vries got the lead down to three points. Den Boer then hit a shot to get his team within one point.
The Crusaders built the lead back to five points, but a bucket by Matt Haak and free throws from Den Boer evened the score at 29.
Northwest Christian's Karl Richardson came down the floor and was fouled with 21 seconds to go in the game. Richardson nailed both attempts to give the Crusaders a two-point lead.
The Knights weren't ready to give up just yet. A floater by Haak in the lane evened the score again.
"It was a beautiful shot," Wagenaar said.
But unfortunately the final shot of the game would be Ramey's, which put the Crusaders up for good.
"We needed a few baskets, just one or two from our guards," said Wagenaar, who noted a couple more shots would have meant a win and a berth in the semi-finals and a rematch against Moses Lake Christian.
Den Boer led the Knights in scoring, with 14 points. He was the only Knight player in double-figures.
Koopmans and De Vries each had 6 points on the night.
Northwest Christian's Richardson had the game-high point total, with 23. Richardson also had a game-high eight rebounds.
The Knights will play Lummi at 2:30 p.m. today (Friday) after Lummi (23-5) lost to Moses Lake Christian Thursday night.
Wagenaar said he's disappointed that his team lost, but his team is still in the tournament, and his players need to focus on playing until they're out.
"You pick up the pieces and you go," he said.
He also said his team has had a great season and a loss is no reason to get too upset.
"I can't cry, because we're 21-5," Wagenaar said.
NW Christ. 4 8 13 8 -33
SS Christ. 9 6 5 11 -31
SS Christian: Den Boer 14, De Vries 6, Koopmans 6, Haak 5, A. Van de Graaf 0, C. Van de Graaf 0.
NW Christian: Richardson 23.