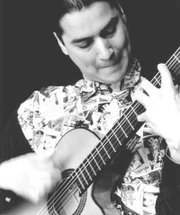 The next concert-and fourth concert of the 2005-06 Lower Valley Community Concert series-will be a performance by acoustic guitarist Edgar Cruz on Saturday, March 11.
The concert marks the series' annual renewal and new subscription sale for the 2006-07 season.
Individual tickets are reduced to $5 for the Cruz performance as part of the subscription drive.
In addition, if new or current concert series subscribers buy a 2006-07 season subscription the prices will be reduced $5. An adult season series, for example, would cost $35 instead of $40.
Season series prices will revert to their normal amounts after April 30.
Tickets, new subscriptions and renewals will all be available at the door on March 11. Doors will open at 7 p.m., with the concert beginning at 7:30 p.m..
The concert line-up for the 2007-07 season includes the Great China Acrobats, classical violinists the Eskar Trio, the jazz string trio Time for Three and Bronn Journey, a harpist and vocal duo.
The final concert for the 2005-06 series is Todd Greene, a one man band, on Sunday, April 23, at 3 p.m. This is a bonus concert for new subscribers for the 2006-07 concert series.