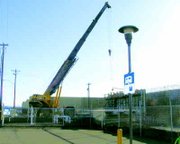 Ongoing progress with Sunnyside's wastewater treatment plant will result in a temporary closure of the RV dump at 1338 South Fourth Street in Sunnyside.
"They need to close it off for a few weeks in order to facilitate construction at the wastewater plant," said Delilah Cyr, administrative assistant for the Sunnyside public works department.
Plant supervisor Joe Ortega explained that the RV dump sits adjacent to the wastewater plant.
"We're going to be digging to put in a foundation for a new blower building," he said. "Once we re-route the sewer line then the RV dump can re-open."
The RV dump will be closed from Monday, March 6, to approximately Monday, March 27, due to plant construction.
Ortega said the blower building will supply aeration for the new upgrade of Sunnyside's sewer plant.
He noted that possible alternatives to the RV dump during the closure include the Prosser truck stop and Grandview RV park to the east, and to the west a facility in Zillah, near the cemetery.