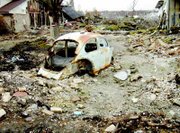 "Imagine everything in your house just gone," Bill LaForce, owner of Are-Sea Carpet Cleaning in Sunnyside, said.
LaForce was speaking about his experiences in hurricane ravaged Kenner, La. He went there to help inspect mold in people's houses.
"That's what I thought I was going to be doing," he said. LaForce said there was so much mold there due to the houses being submerged in water and then just left abandoned, he said he was needed to do other things.
LaForce volunteered through his church to go down in the hurricane ravaged area and try to do some good. "It's amazing how much need there is down there," he said.
He paid for his own way down to Louisiana but once there, he stayed with different individuals and was fed three meals a day. "Our food was donated," he said.
He went there to inspect for mold damage, he ended up fixing houses. They had to pull everything out of these houses, he said. "We took it to the bare minimum."
The volunteers took out the carpet, drywall, ceiling, wires and anything that had mold on it and they could remove. The debris would be piled up in the street and cleaning crews would come take it away.
Whatever couldn't be taken out that had mold on it would be cleaned with a dry-ice blaster. "Those things are great," he said. "I've never used one of those before."
After the house was cleaned up and wiped down with an anti-mold solution, it was time to put the house back together.
"We put in new electrical wire if needed, new drywall, carpet and even ceilings," he said.
LaForce worked with a team of 5 to 10 people on the houses. In the 2 1/2 weeks he was there, LaForce said he worked on three houses and two houses of worship.
"There's a ton of work to be done," he said. "There will be work going on there for the next 10 to 15 years."
LaForce noted the problem with housing. He said people are living in parks. He thinks work could be progressing a little faster.
But he has good things to say, too.
"There's lots of good stories down there too," he said. "People are helping each other."
LaForce said he is planning to return in September. "It was worth it for me to go," he said. "It made me feel good to help these people. I got to know a lot of people down there and I want to go back and help them.
"I learned a lot," he continued. "Things can be taken away from you just like that."