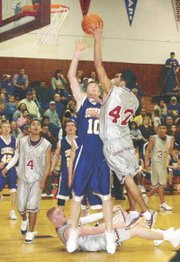 GRANDVIEW - It was a week later than they would have liked, but the Grandview boys basketball team punched its ticket to State just the same with a 64-43 win over Connell this past Friday night.
Playing in the District consolation round after an upset loss to East Valley a week earlier, the Greyhounds used an 18-11 second quarter run to post a double-digit halftime lead over visiting Connell.
After a tight third quarter, Grandview's reserves put the game away with an 18-10 fourth quarter surge.
"We wanted to come right out and get after their guards," Grandview Coach Scott Parrish said of his strategy in defending against the Eagles.
Sparked by James Vela's four steals for the game, Grandview swiped the ball away from Connell 12 times. The Greyhounds' pressing defense took away the passing lanes, holding Connell to just eight assists as a team.
But the most telling statistic was in the paint, where Grandview had 18 second-chance points to Connell's eight.
"Offensive putbacks really helped us out with the second chance points," Parrish said.
Leading the charge under the basket was Grandview big man Tim Schrank, who came within an eyelash of a double-double with nine points and nine rebounds.
Still a bit gimpy after an ankle injury a few weeks ago, Schrank played the game of his basketball life when Grandview needed it most.
"He did a good job rebounding for us," Parrish observed. "Tim rolled his ankle awhile back and he's getting back to normal."
A.J. Valencia and Nate Zavala both tallied 14 points to lead a balanced Greyhound attack. Vela added 11 points to go with five rebounds and seven assists.
As well as the 'Hounds played Friday in securing a berth in the 2A State basketball tourney, they stumbled badly in a 63-56 loss to Chelan on Saturday in Wenatchee.
"Chelan played really well, they shot extremely well," Parrish said of the Goats' 56 percent shooting for the game.
Of course, Parrish added, Grandview's defense or lack thereof contributed to Chelan's gaudy stats.
"I was real disappointed in the way we played, on both ends of the floor," he said. "We didn't communicate on defense and we didn't contest shots like we normally do."
The Greyhounds' apparent hangover from advancing to State for the sixth consecutive year as a 2A school also disrupted Grandview's offense.
"It was frustrating, we didn't move the ball or get the good looks we usually do," Parrish said of Grandview's paltry 29 percent shooting for the game.
"We were missing lay-ups, it was weird," said Parrish. "I can understand an off night shooting, but I was most disappointed in our execution."
Chelan's top scorer, Eric Nelson, hit his first four shots to open the game, on the way to 32 points for the game.
After a 19-12 run to pull within one point of Chelan at the half, Grandview had one of its worst quarters of the season in the third as Chelan went on a 17-4 tear to all but put the game away.
There was still life in the 'Hounds, though, as super sub C.J. Lopez canned three treys in the fourth quarter to spark Grandview.
"When our backs were against the wall we played better," Parrish said.
Grandview got as close as four points with two-and-a-half minutes left in the game, when a charging call gave the ball back to Chelan. The Goats took care of business from there for the win and the district's third seed at State.
Lopez led Grandview with 19 points, including six three-point buckets. Anthony Andrews added 11 and James Vela scored nine points to go with eight rebounds and five steals
Grandview, ranked third in state polls heading into Districts, fell to the CWAC's fourth seed heading into the State tournament.
"That's not really the way you want to head into the State tournament," Parrish said.
Grandview, which lost two games all season and was undefeated in league play, lost twice during the District tourney.
"We're obviously playing better teams than we did throughout the year," Parrish said of Grandview's stumble at Districts. "Our execution is a matter of focus, and we'll try to take care of that the next few days. We want to be playing disciplined basketball the next few days."
Those next few days begin this Wednesday at the State 2A boys basketball tourney at the Yakima SunDome.
Grandview opens play at 9 a.m. against Lakeside High School, located near Spokane at Nine Mile Falls.
Lakeside, champions and the first seed from their District, will tangle with a Grandview team that has trophied during the last six 2A state tourneys it has appeared in. The Greyhounds brought home the third-place trophy last year.
"Lakeside is very athletic," noted Parrish. "They have a couple of kids that are 6-4, 6-5. They are all over six-foot tall so they could cause us some match-up problems."
Grandview has some familiarity with Lakeside, defeating them during a non-league contest earlier this season.
Parrish said he won't alter his team's preparation to accommodate the 9 a.m. start.
"I like the 9 a.m. start, actually," he added. "If you're fortunate enough to win, you don't have to play until the next day (Thursday) at 4:30 p.m."
The 'Hounds (12-0, 20-4) will play either Cashmere or Steilacoom on the second day of the tourney.