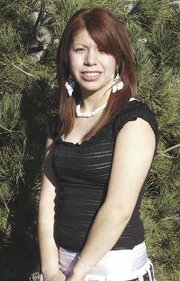 Rosalinda Gomez has poise. It's a good thing. She's going to need it.
The 15-year-old Sunnyside High School sophomore will be competing in the junior teen division of the Miss Washington Pageant Sept. 3 and 4 in Seattle.
"I want to inspire them to go on and do more than they think they can," Gomez said of young Hispanic girls as to why she decided to enter the pageant. "I want to inspire other girls."
This is Gomez's first pageant, she said. She hopes to use it as experience before she competes for the title of Sunnyside Miss Cinco de Mayo next year.
In order to apply to participate in the Miss Washington Pageant, Gomez sent application materials that were reviewed and included information on her community service, community involvement and grade point average.
The junior teen division, in which she'll compete, is for girls ages 13 to 15.
So what does the sophomore do in her spare time?
She's a pep club member, participates in karate, volunteers in the community and helps after school with homework.
In fact, karate will be her talent in the pageant, she said.
Gomez plans to try to break a brick and do several forms in an attempt to impress judges.
Like most pageants, she'll be scored in a number of different areas, including interviewing, talent, community service, casual wear modeling and spokesmodeling, just to name a few.
Between now and September, Gomez is looking for sponsorship support. She said she needs individual or business sponsorship to pay for the cost of things both she and the pageant need.
Also, between now and September, Gomez will be practicing her talent and responses to questions.
She said she also needs to maintain her GPA, as grades are factored into the competition.
"I'm excited," she said of being involved in the pageant. "It feels like September is so far away."
If Gomez wins the pageant she'll be crowned Miss Washington Junior Teen and will go on to compete in the National America Miss Pageant Nov. 19-25 at Disneyland in Anaheim, Calif.
Gomez said anyone wanting to sponsor her can call her at 837-4820.