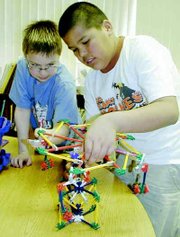 BICKLETON - A tilt-a-whirl in one corner and a ferris wheel in another have turned the Bickleton school library into a veritable fairground.
The projects are actually motorized miniatures made from toys called K'nex.
"It's a project students can work on during library hour," explained Bickleton school librarian Audrey Haynes. "It teaches them problem solving and teamwork in working together."
The duo of third grader Lindsay Brown and fourth grader Emily Lehman had their own experience of adapting their K'nex creation to the tools they had on hand.
"We built a different ferris wheel because we needed a motor and didn't have one," said Brown. "It was hard to figure out at first," added Lehman.
"It was fun to work together," said Omar Lemus as he wound up the K'nex mini-machine he invented with fourth grade classmate Joshua Hills.
"The great thing about this is you can have the students work together and help each other," noted Haynes. "And at the end they can have an actual design, a toy, that works and moves like a machine."