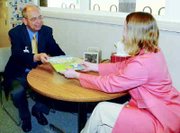 Children at Sunnyside's Pioneer Elementary School got a surprise as the congressman for Washington's Fourth District, Doc Hastings, stopped by to tour classrooms Monday morning.
"I wanted to invite the Congressman down here so he could see all the positive things we have going on," said Jennifer Allen, assistant principal of Pioneer Elementary.
After visiting the dual language kindergarten class, the Congressman moved on to the first grade reading classes. The children are split up into different groups based on their level of reading.
"A lot of money has been put into reading and it has been very positive for us," Allen said. "For the Congressman to see those gains is very important.
"Kids have to be good readers to understand what they're being asked to learn in other subjects," Allen continued.
Hastings agreed. "Kids have to learn how to read," he said. "The whole idea is to give the children an opportunity to learn."
Allen also showed Hastings the dual language science and math classes. All instructions in the dual language science classes are in Spanish and math instructions are taught in English. Every other day the language switches from Spanish to English for non-instruction conversation.
"It's better because the children must listen in each language unlike bi-lingual classes where the kids can only focus on their language," Allen told Hastings.
"It's kind of like immersion," Hastings noted.
If a child doesn't understand what the teacher is saying they have their language buddy to help translate for them.
Hastings finished his tour with a fourth grade music class. He then presented Allen with a book called Woodrow, the White House Mouse.
"It's a book about how government works," Hastings told Allen.
Hastings said it's the state's responsibility to ensure education for K through 12 and he's visited a number of school districts.
"It's a really good system," he said of what the staff at Pioneer is doing. "It was very impressive to see what's going on here. They certainly showed the professionalism needed to teach the children."