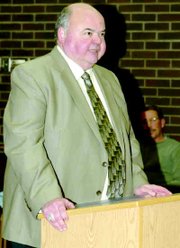 GRANDVIEW - The Grandview City Council voted to adopt a new fireworks ordinance at last night's council meeting.
The changes from the old ordinance will include the hours fireworks will be able to be let off and sold. Fireworks can be sold from 10 a.m. on July 2 to 10 p.m. on July 4. Fireworks may be let off commencing at 9 a.m. on July 4 and ending at midnight of July 4.
Also new to the ordinance, people who sell fireworks must be 18 years of age. Before, a person only had to be 16. A list of city rules regarding the use of fireworks will also be handed out with each purchase of fireworks.
"We plan to keep fireworks in Grandview legal for a long time," Norm Childress, Mayor of Grandview, said. "We'll keep them as long as people are responsible."
Grandview is one of the few cities that allow fireworks during the 4th of July holiday.
The new ordinance won't take effect until 2007.
The Council was looking into allowing citizens to light off fireworks in Country Park but there were too many logistical problems for this to happen.
Mike Carpenter, director for parks and recreation in Grandview, said monitoring the fireworks set off by the general public at Country Park would be a big responsibility and would require considerable manpower and supervision.
Carpenter also worried that once the city started inviting the general public to come to Country Park and discharge their personal fireworks the city's liability would increase significantly.
Carpenter thought the fire department and the police department would need to be represented at the park when people are letting off their fireworks. "There is always a chance those public safety officials might have to suddenly depart from the site if an emergency arises elsewhere in the community," he said.
He said ensuring illegal fire works aren't brought into the park, ensuring a responsible adult is lighting the fireworks, administrating first aid in case of an accident and other concerns would need to be addressed by the police and fire departments.
"I would be somewhat hesitant to volunteer my forces just to monitor," Pat Mason, fire chief for the city of Grandview, told the council Monday night. Mason said it would be difficult to dedicate firemen to one spot, especially since they might have emergencies in town or in the county.
Carpenter summarized his feelings in a letter to the mayor saying allowing fireworks to be set off by the public at Country Park would not promote the safest atmosphere and would stretch the limited resources of Grandview.
Because of the opposition, this line was taken out of the ordinance. Fireworks will be banned in all public parks.