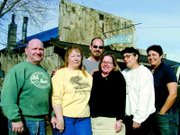 BICKLETON - Jerry and Barbara Gaines said goodbye to a part of their family last week when the sale of their beloved Bluebird Inn became official.
Built in 1882, making it the oldest tavern in Washington state, the Bluebird has been a Bickleton landmark ever since.
The Gaines first purchased the Bluebird in 1997, later becoming the first couple to wed in the historic tavern.
After selling in 2000, the Gaines re-purchased the Bluebird in 2003 before selling again just this past week.
After purchasing the Bluebird a second time in 2003, the Gaines made the tavern one of the first in the state to go no-smoking. "Business really picked up when we made it non-smoking," Jerry noted. "I guess we were ahead of the times."
The Gaines had planned a longtime commitment to the Bluebird before fate had other ideas.
"My horse bucked me off and it broke my neck and back," Barbara wept. "I always thought I would have the Bluebird until I retired, but I can't work anymore."
She continued, "That's why it's hard to let go of this, it's like part of my family. But I guess God had other things in mind for me."
The Gaines' sadness is mixed with a contentment and assurance that the new owners love the Bluebird as much as they do.
One of the new owners, Nelda Flores, runs the Hen's Nest shop right next door. Flores and her daughter Candice form half of the new ownership team and are both Bickleton residents.
"I just looked at this as the chance of a lifetime," Flores said while she and the new ownership group shared lunch at the Bluebird.
The other half of the Bluebird team are Sunnyside natives Scott and Lisa Still, a brother and sister duo.
"I honestly thought it would be a good investment," Lisa said. Added Scott, "We've all wanted to go into business together for a long time, this is a great opportunity to do that."
Even with the buyers' local ties, the Gaines had a hard time letting go of the Bluebird. At one point they backed out of the deal before agreeing to sell. "I think they'll do the Bluebird good," Barbara said as she wiped a tear from her eye.
The new owners said they won't look to change anything at the Bluebird. Scott Still has 17 years experience as a chef and said the menu will remain the same, though he will introduce some dinner specials as a way to test new food items.
While Still will do the cooking, Nelda Flores will work in the front to serve customers.
Though the Gaines no longer run the Bluebird, they intend to remain in Bickleton and regular customers at the tavern.
"It will be very weird to be a customer," Barbara laughed. "But we'll be back here to eat, even though I might cry a little when we do."