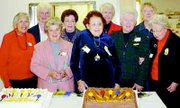 One hundred years ago 10 women decided to band together in Sunnyside to help women become the achievers they were destined to be.
Most of those 10 had no idea what they were getting into.
Only a few of them knew anything about the international Philanthropic Education Organization (P.E.O.) of which they were about to become a part.
"Dr. Evangeline Howick was the instigator," said Rose Ann Moore, P.E.O.'s 2006 vice-president.
Moore said several of those charter members became acquainted with the international club when they lived in Iowa and agreed with Howick that a club that could give a helping hand to women desirous of an education could be a good thing for Sunnyside.
The rest of the women had to be convinced, Moore said.
And that, as they say, is history.
They not only became convinced, the 10 laid a foundation that has been built upon for the past 100 years in Sunnyside.
Today's 30 members of Sunnyside's Chapter L of P.E.O. carry that history around in shopping bags crammed with scrap books, photos and newspaper clippings that track the work they've done over a century.
A graduating senior girl has received a $500 scholarship every year in recent history. Children's books have been given to Sunnyside Community Hospital as Christmas gifts, and the club supports girls who attend Girls State.
In addition, they hold mini-fundraisers just among the club members to raise money to send to the P.E.O. organization to be used for the P.E.O.'s five international projects.
Through those projects, 7,500 women have graduated from Cottey College in Nevada, Missouri since its first class in 1887. That college has been owned and supported by the P.E.O. sisterhood since 1927.
Other P.E.O. programs to which the Sunnyside Chapter L club donates are a scholarship fund for international female students who want to pursue graduate studies in the U.S. and Canada, need-based grants for continuing education for women whose education has been interrupted and scholar awards that go to women of the U.S. and Canada who are pursuing advanced degrees or are engaged in advanced study and research.
It wasn't a snap for the original 10 Chapter L members to keep their club going.
In fact, its first president, Alice Boutell, stepped into office filled with trepidation, according to a history compiled for the club.
"It had been planned that Dr. Howick would be our P.E.O. president, but to our consternation on the day of organization, the announcement was made that the Howicks were leaving immediately for Yakima to reside," Boutell was quoted as saying.
"I cannot explain to this day how the office fell upon me, whether no one else would take it and I was too scared to say no, or what. I know I was thoroughly frightened," Boutell concluded.
According to this year's vice-president, Chapter L met in the evenings in those first years. "At that time, members used to think nothing of walking in the dark with no street lights," Moore said.
They also thought nothing of dedicating hours to the club.
One member produced the 1912-13 yearbooks completely by hand...one for each member. Each cover is a hand painted watercolor of yellow-centered, white. Marguerite daisies on a blue background. The book is filled with her exquisite handwriting-a labor of love with the pages tied together with a gold ribbon. The artist, whose identity has been lost over the years, used gold leaf to draw the club's star emblem.
Two of these yearbooks remain, safe in the custody of this year's P.E.O. president, Beverly Newhouse, who has held the office three previous times and is pleased to fill the office in this centennial year.
The Sunnyside club has two 50-year members, Barbara Atherton and Lorene Morris.