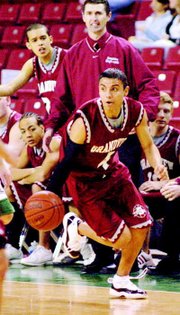 YAKIMA - Cue the music- make it the "Rocky" theme if you want-for super sub C.J. Lopez.
A sixth man for the Grandview boys basketball team, Lopez came off the bench to nail a three-pointer with 11 seconds left in regulation to send the Greyhounds into overtime on the way to a 54-49 win over Lakeside in the State 2A boys basketball opener today (Wednesday).
"C.J.'s done that for us all year, he's just a great kid," Grandview Coach Scott Parrish shouted just outside his team's raucous locker room after this morning's 9 a.m. thriller. "He's a great shooter and does everything you ask him."
Lopez, still only a sophomore, was asked to fill some big shoes Wednesday when Grandview's captain and CWAC South MVP James Vela fouled out of the game with 3:36 to play.
He was only on the hardwood 20 seconds when he showed a sign of things to come with a steal in Lakeside's backcourt, then drove coast to coast to knot the game at 34-34.
The Eagles' Jeff Harrington responded by converting a pair of free throws-Lakeside was 22-of-28 for the game from the line-then after a Grandview miss the other way canned two more charity tosses to open up a 38-34 lead over Grandview with 2:26 to play.
A two possession game? No problem, answered Lopez, who coolly drained a three-pointer to make it a one-point game.
But Lakeside came back with a 4-1 run to post a 42-39 advantage with just 57 ticks of the clock remaining.
The door remained opened for Grandview's rally-and Lopez's heroics-thanks to a rare Lakeside missed free throw that could have made it a four-point spread.
Grandview's first chance to tie the game ended with a missed Lopez three-point attempt that somehow bounced off Brandon Artz's arm to teammate Anthony Andrew.
The Greyhounds quickly called timeout to set up their last chance with 21 seconds left.
After working the ball around the perimeter, Grandview got the ball to Lopez, who had a split second opening to fire away with the game-tying trey.
With plenty of hustle and little or no flow, Grandview's offense had somehow forced overtime with their all-everything captain on the bench.
But that was nothing, folks, compared to the first three quarters when Vela rallied Grandview back from one-of-14 shooting in the first quarter to somehow lead 21-18 at the half. The senior scored seven of his 10 points during a 9-2 second quarter surge that turned the advantage Grandview's way.
Oh, and then there was the third quarter meltdown.
The Greyhounds put up 10 shot attempts in the third. Some were from the perimeter, some from the paint and most were makeable.
But they missed every one.
Thanks to a stingy defense-keyed by Artz, who drew two offensive fouls on the Eagles' Joel Noland-Grandview trailed by only seven heading into the fourth. Actually, make it four after A.J. Valencia knocked down a last second trey to end the third stanza.
That made the 'Hounds one-of-11 for the quarter, and gave them a spark they carried into the final period.
After later rallying to send the game into overtime with a 42-42 score, Grandview's offense took over.
A.J. Valencia drove for a bucket and, after a Lakeside miss the other way, Lopez found Nate Zavala under the basket for an easy lay-up to make it a 46-42 lead for the Greyhounds.
Lakeside encountered a furious full-court defense on the following inbounds play, which knocked the ball loose in backcourt and sent arms and legs tangling in a scrum the full-length of the court.
Andrews scooped up the ball and alertly called timeout before an Eagle player could knock the ball loose and resume the scrum.
By this time there was less than two minutes to play and Lakeside was forced to foul Lopez, who tuned out the crowd noise and dialed in both ends of the one-and-one to make it a 48-42 game.
Lakeside answered with a bucket, then fouled Artz the other way to preserve the clock.
Artz twisted his ankle on the play, sending in Lopez (who else?) as a replacement free throw shooter. He canned one-of-two to make it a 49-44 lead, followed by Valencia who also could only hit one-of-two the next time down for a 50-44 advantage.
There were still 52 seconds to play by this point, and Lakeside was only two possessions away from tying the game.
But Grandview's lead still held up at 51-46 with just 25 seconds remaining.
The game seemed all but won for the Greyhounds, until a call in the final seconds threatened yet a second overtime.
Lakeside fouled Valencia hard on an inbounds play. The junior reacted by chest bumping his opponent, then exchanging some, presumably, unkind words before getting called for a technical foul.
Valencia hit one of his two attempts, while the Eagles hit both of their technical free throw shots and retained possession of the ball down 51-47 with 18 seconds left.
Lakeside got as close as two, 51-49, before the super sub (did you remember to cue the music) came through with two clutch free throws to seal the win.
Speaking of clutch, all of Lopez's 13 points came in the second half. Valencia led Grandview with 15 points and six rebounds.
Lakeside (15-8) was sparked by 16 points from Noland, who consistently eluded Grandview's defense to quarterback the Eagle attack.
Parrish praised his team's defense, in particular, and was overjoyed at his team's response upon losing Vela in crunch time.
"That's what this team has done in the past," he said. "They scratch around and stay in the game. It's a tribute to James for the example he's set in how to play the game."
Grandview (21-4) advances to the State 2A quarterfinals at the SunDome with a 4 p.m. game against Cashmere, 46-43 winners over Steilacoom in this morning's 10:30 contest.