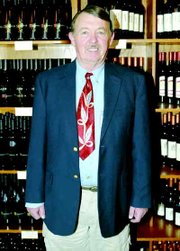 Mike Wallace, a resident of the Lower Valley for 34 years, announced his intention to run for the Third District Yakima County Commissioner seat at Apex Cellars in Sunnyside Tuesday morning.
He plans on filing the paperwork needed to formally run for this position by next week.
The seat is currently held by Jesse Palacios of Grandview. Palacios has indicated he will not seek re-election.
Wallace is the owner and winemaker at Hinzerling Winery and the Vintner's Inn. He and his wife, Frankie, also raise cattle on their family farm.
He has been active in the wine, grape and tourism industry and feels he has the skills to help solve some of the challenges Yakima County is facing today.
One such challenge is the new Yakima County Jail that was recently built. The county doesn't have the funds to run it yet.
"That's a Pandora's box that's been opened," he said of the new jail. "It's a situation that's going to have to be looked at.
"If elected," he continued, "I will make it a priority to find a solution to the problem."
Wallace said finding the money to run the jail would be one option and said selling the jail or finding a private company to run it are some other options.
He said he was told that renting out jail space to other counties and the federal government brings in 25 percent of the money Yakima County now gets.
Wallace was also asked whether the county should remain in the business of operating its few remaining parks.
He said the county just doesn't have the money to continue doing this.
"Law and justice will take money away from that and not allow the county to look after the parks," he said. "Eventually, I think the cities will need to take over the parks."
He said the city of Sunnyside has done a good job with Sunny View Park.
Acknowledging the third district is diverse and encompasses a large rural area, part of the city of Yakima, suburban Terrace Heights and five very unique smaller valley towns, he thinks he would do a good job of representing the people of the whole county.
In his press release, Wallace said, "I know this will be a tough job but I'm willing to work very closely with the other commissioners, county elected officials and department heads for whatever number of hours a week it takes in the hands-on approach necessary to get the county on firm financial footing again."