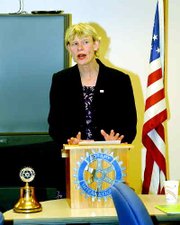 Over the last five years the American Lung Association of Washington has seen a 45 to 50 percent reduction in youth smoking in Yakima County. Adult use has declined from 30 percent to 20 percent.
"That's a great thing because many of these people have smoked for years," Leslie Benoit, the American Lung Association's regional director for Central Washington, told members of Sunnyside's Daybreak Rotary Club Wednesday morning.
Benoit was on hand to talk about the American Lung Association and some of the projects its involved with.
The American Lung Association was founded in 1906 to help stem the flow of TB cases. In the 1950's, TB declined significantly enough that the Association started to take on more lung health issues.
Some of these were lung cancer, emphysema, influenza and asthma.
Today's mission is for the American Lung Association of Washington to assure lung health for the people of Washington through education, community service, research and advocacy. The focus is on fighting tobacco use, bad air and the asthma epidemic.
They are able to do this in part with money received from tobacco settlements. Last year the American Lung Association of Washington received $192,000. Fifty thousand dollars immediately went to help build capacities in communities for tobacco prevention programs.
One program, she said, is called TATU, which stands for teens against tobacco use.
This program trains teenagers on the dangers of tobacco use and then sends them to grade schools to teach younger children what they have learned. "This program has been in Yakima County for 10 years and the results have been outstanding," Benoit said.
Another program is called the Brief Intervention Program, she said. The Lung Association conducts training sessions to teach motivational interview techniques to health care providers who are influencing patients/clients to consider quitting tobacco use.
"If a person in the medical field tells someone they have to quit smoking, there is a greater chance of people actually quitting," Benoit said.
The Lung Association also trains teens under the age of 18 to do compliance checks. After training the teens go into stores and try to buy cigarettes. "Six years ago, 57 percent of the stores would be in non-compliance," Benoit said. "Today that number is down to 8.5 percent. It's wonderful."
The Lung Association also tries to get the word out on asthma. The American Lung Association of Washington partners with Camp Fire USA to offer a summer camp for kids with asthma. The campers will receive medical supervision and enjoy lots of recreational activities.
Once a year the Lung Association hosts its only fund raiser, Blow the Whistle on Asthma. The event is a 5K walk and last year this event grossed $37,000 for the Lung Association. This year the event will be held on Oct. 14.
"We use this opportunity to talk with the media and communities to get the message out about asthma," Benoit said. "It's small steps but we are raising awareness."
Benoit also spoke about I-901, the smoking ban that took effect last Dec. 8.
"It's the toughest law in the nation because of the 25 foot rule," she said. "There are many battles to fight with this."
One such battle is with private clubs. Some clubs say that since they don't have employees they don't have to comply with this law. Benoit said since most private clubs serve alcohol, someone is in a position of authority and that counts as an employee. "Because of this the private clubs must comply."
Another issue is the Yakama Nation. They are their own sovereign nation so they don't have to comply. Where it gets tricky is the businesses on tribal land that aren't owned by any member of the nation. These businesses should comply but for now, it's up in the air, Benoit said.
"It hasn't been very easy going with the smoke ban," she added.