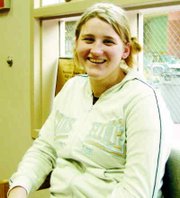 Seventeen-year-old Bettina Kempf came from the Black Forest in Germany last June to learn about America and, eventually, to graduate with the Sunnyside Class of 2006.
"But it won't really count for me," said Kempf, who has to fulfill 13 years of school in Germany before sailing on to college.
She said she considers her inclusion in the graduation as an honor, something special that not all schools extend to exchange students.
"Some schools don't let exchange students graduate, but Sunnyside High School does," said Kempf, flashing her emerald graduation ring.
The Kempf family feels so strongly about the graduation that her mother, Gabriele, will be flying to the states on May 21 and will stay over for the ceremony June 2.
Kempf's hometown in the Black Forest is Lahr, a town whose population is about the same as Sunnyside's, she said. She attends Waldorfschule, a private institution, which allows her to seek a career in any field she likes. If she were a public school student, her life's track would be mapped out for her, depending on elementary school testing that would decide for her if she would follow a low, medium or higher level of education.
"I wanted to be a doctor, but it would take seven years of further education and that would be not good for me to be that long in college," said Kempf. She said she thinks she will follow her mother's footsteps and aim for a career as a nurse instead.
Kempf came to the U.S. sponsored by the EF Foundation, which operates similar to the Rotary, which also sends exchange students to other countries. She said it took about two months from the day she first applied until she was approved.
One difference between her sponsoring organization and Rotary is that EF exchange students live with just one family during their entire year's stay while Rotary's students reside with several throughout a year.
Kempf's host family is Jill and Mike Shuttleworth of Sunnyside and their two daughters, Helen and Emily, both Sunnyside High School students.
"I went first to Boston where I stayed two weeks taking classes with 300 other exchange students from all over the world," said Kempf.
She said class emphasis was on life in America, English, the history of the United States and current issues. "To help us know America," she said.
While in Boston, groups of students were set free to explore, and Kempf said, in spite of June's high temperatures to which she was unaccustomed, she visited Harvard University, Newport and downtown Boston.
Since she has been living with the Shuttleworths, Kempf has been treated to trips to the mall in the Tri-Cities, Spokane, Leavenworth and Portland, where she visited with an American exchange student she had met in Germany.
Kempf said they also spent Christmas break skiing in Idaho.
"But I didn't like it. I broke my leg eight years ago skiing in Switzerland and now I don't like skiing so much," said Kempf.
She said swimming and scuba diving in Constance Lake, three hours from her home, is more her speed now.
"And camping! We went camping near Moses Lake and we camp at home," she said.
Kempf lives with her divorced mother and 20-year-old sister in a three-family, three-story house in Lahr. Her father is an insurance salesman.
"We have the middle floor with three bedrooms, a living room, kitchen and two bathrooms," said Kempf. "We also have a garage and above that is an outdoor area where we can sit and sun and barbecue."
In Sunnyside, the German girl has carved a niche for herself. She is manager of the high school softball team, has the part of the fiddler in the Valley Theatre Company's production of Fiddler on the Roof, played violin in the school play, Beauty and the Beast, and played violin with the Yakima Youth Symphony Orchestra for one season.
She gave up the symphony because its Monday evening rehearsals collided with her homework assignments.
"In Germany, I play in two symphony orchestras, a youth orchestra of classical music and one with more college students in it that plays rock symphony. But our practices were weekends," said Kempf.
"I like music," she stated simply.
Kempf said she couldn't pick out any one thing she likes best about America. "But I like it. All the people are nice. The teachers are nice. Maybe I will come here and visit again when I am done with my school in Germany."