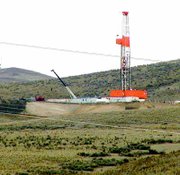 Dwarfing a nearby crane, a gigantic drill is probing for natural gas just north of Sunnyside, near Highway 241, milepost 17.
The operation is part of a long-term effort by Sierra Engineering of Houston, contracted by Denver-based Encana Oil and Gas (USA), Inc. to oversee natural gas drilling here.
The drilling is underway now to determine the Sunnyside area's potential as a resource for natural gas.
The project began in November 2005 and just last month the drill was moved onto the site. Planning on the work began months and years earlier, noted Wendy Wiedenbeck, a community relations spokesperson for Encana.
She noted permit applications and site review went into selecting the Sunnyside site. Including pre-construction planning, Encana figures it will take a total of two to four years to know whether or not the location will be productive.
Project Supervisor Bill Delahoussaye said the well being drilled now is the second of three planned.
A 45-foot hole with steel casing was drilled in December 2005 in preparation for the drill's arrival.
Delahoussaye has said Encana plans to drill down 15,000 feet and it could take anywhere from two to four years for the company to learn whether the site can produce enough natural gas to sustain expansion.
Wiedenbeck said it will probably be sometime in 2007 when Encana learns if the first two wells will be winners.
"The drilling technology we're using is new to the Columbia Basin, but is proven elsewhere," Wiedenbeck said. "So sometimes we have our good days and bad days, there's a steep learning curve with this new technology."
She noted that Encana may be in the very early stages of drilling, but is trying to be a good neighbor, as well as training the crews in safety measures.
Sunnyside City Manager Bob Stockwell reported that all is going well with the city's sale of water to the well drilling site.
"They are buying water from us regularly," he said. "It hasn't created any problems (for the city's water supply)."
Encana's contractors buy water from Sunnyside at one-and-a-half times the rate city residents and businesses pay.
"From the last contact I had with them, they seem pleased with the progress to date," Stockwell added.
The water purchased from Sunnyside will be used to remove cuttings and scrap materials from the natural gas wells as they are drilled, according to Delahoussaye.
Wiedenbeck said the project is in the very early stages.
"We really are just beginning operations," she said. "Beyond the drilling, there's still analysis and testing to be done, and that could take months to see if the site will be commercially viable for natural gas."