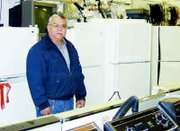 Fred Alviso is the epitome of a working stiff. The 53-year-old man owns Electra Home Supplier, an appliance store in downtown Sunnyside. He's the only one who works there, he said.
"Having a business is an 18 hour a day job," he said.
So what does Alviso do from the time he goes to work to the time he leaves?
That depends.
"There's always something to do," he said. "I'm always behind."
What he does mostly, he said, is work to repair appliances and make sure all his working appliances are in good condition so they can be sold.
Alviso's business is currently at 520 S. Sixth St., but it hasn't always been there. In fact, his business has had five different locations since he opened it 18 years ago in Sunnyside.
He said he opened the store after he noticed a need in Sunnyside for a good appliance repair store.
"I started as a salesman for Sears," he said. "When I was working there I saw the necessity of a good place to repair items."
It isn't all just appliances and appliance parts Alviso sells, he said. He also sells a variety of smaller items, such as napkin holders, magnets and cell phone accessories.
If you buy an appliance from Alviso, don't expect him to be able to deliver it. He's usually by himself in the store, he said, and he can't do that.
Just because Alviso works 18-hour days doesn't mean he doesn't know how to have fun. Family is important to Alviso, he said. So that means he takes Sundays off to spend with his children, Jose, 27, who's an ex-Marine, and Christian, 12.
He also gets away from his store twice a year on vacation to clear his mind, he said. Although he likes to spend time woodworking when he's not at his store, his vacation spots aren't quite as dull.
He said he'll take trips to Las Vegas or to California to get away from the stress of owning his own business.
But when he comes back to work he knows it's what he should be doing, after all, he's been doing it for so long, it's hard to remember a time when he didn't.
"When I was just a boy I started selling irons," he said, mentioning that he also sold other small appliances as a child.
Selling appliances is who he is, he said.
"It's been with me all my life," he said.