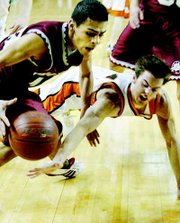 YAKIMA - In a battle between CWAC giants, it was same song, second verse for Grandview's boys basketball team.
Start the game shooting bricks, watch as the other team begins pulling away, then break their opponents' hearts with a furious second half rally.
That was Grandview's ticket to the 2A State tourney semifinals in a 61-48 win over Cashmere yesterday in the SunDome.
As in Wednesday's tourney-opening win over Lakeside, Grandview struggled to get a shot to drop at the start of Thursday's game.
At one point the 'Hounds trailed 21-12 early in the second quarter, as Cashmere's sharpshooting Michael Miller poured in 13 first-half points, including a trio of three-pointers.
The Greyhounds closed to within six at halftime. That's when senior Anthony Andrews went to work, shaking off a 1-for-11 shooting performance in the opening game-including 0-for-7 from three-point range-to score 14 second half points on the way to a game-high 22.
Grandview Coach Scott Parrish said he told Andrews not to worry about his offense, but to work on his defense.
Andrews went to work, all right, foregoing poor percentage three-ball attempts for drives in the lane.
After missing his first shot of the game-his one and only attempt from three-point land-Andrews dissected the Bulldogs' defense with drives in the paint.
The result was better shot selection, and 10-of-13 free throw shooting.
"The rims aren't too friendly for high school basketball," Andrews said of the SunDome. "So I decided I'm going to go inside."
Andrews collected an inbounds pass from James Vela and kissed the ball off the glass to bring Grandview within 32-29 midway through the third.
A pair of Brandon Artz free throws kept it a three-point game, when super sub C.J. Lopez brought the Grandview faithful to its feet with a three-pointer to knot the score at 34-34 with 3:08 to play in the period.
But the Greyhounds were still down 41-38 with 29 seconds left in the third when Vela canned two free throws to pull his team within a point.
Cashmere played for the final shot of the quarter, and got to the foul line with 16 seconds left.
After the Bulldogs missed both free throws, Grandview settled in for what would be the last shot of the third.
Cashmere knocked the ball away with the final seconds ticking away, but Artz managed to get a hand on the ball and tip it to Andrews, who buried a bucket at the buzzer to give Grandview its first lead of the game at 42-41 heading into the final stanza.
There it was, the Hounds finally in front.
And in front to stay as Vela compounded the demoralized Bulldogs' misery by sacrificing his body to keep a loose ball inbounds, getting the ball to Andrews for yet another bucket to start the fourth.
Grandview's 44-41 lead dropped to a single digit after a pair of Cashmere free throws.
The Greyhounds slammed the door from that point, though, closing out the game with a 17-5 surge.
Vela sparked the rally with a trey and Andrews hit six-of-six free throws down the stretch to help Grandview pull away.
During the game's final five minutes Grandview went to its version of a four corners offense, chewing up the clock a minute or two at a time while forcing Cashmere into desperation fouls.
Parrish explained that his team was hoping to draw out Cashmere's zone for inside scoring opportunities during the slowdown. "They did a good job of shutting down the inside," he said of the Bulldogs.
Valencia was Grandview's only other scorer in double figures, with 11 points. Nate Zavala and Lopez each tallied eight points. Vela was held to six points, but led Grandview with eight rebounds.
Cashmere's Miller was held to just five points in the second half, after burning Grandview for 13 in the opening half.
"We thought we could zone him up, but he hit some deep threes," Parrish said, crediting a switch to man-to-man defense for slowing down Miller.
Grandview (22-4) advances to Friday's first semi-final contest at 4 p.m. against Kings, a 37-34 winner over Nooksack Valley.