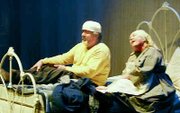 For the second time Charles Alexander of Granger will bring to life Tevye on stage in Sunnyside in the Valley Theatre Company's production of Fiddler on the Roof.
Alexander played the same male lead 12 years ago.
"It's a very difficult role and it just about wore me out then!," he claimed, adding that he was "a little leery about doing it again" with the additional years under his belt.
And how many years does he have altogether on his robust frame, which seems ideally suited to the character he'll play?
"I started this acting about 30, 35 years ago when I was about 15 and was in the chorus of Music Man," said Alexander.
So do the math, if you really need to know.
Rehearsals this week showed that Alexander is still in good voice and good form.
He's also well outfitted.
Julie Trumble of Prosser is coordinating the costuming for the play, which will open at the Sunnyside High School auditorium March 17 and play the 18th, 24th and 25th. The first three performances will be at 7 p.m. with a matinee at 2 p.m. on March 25. Tickets are $10 for adults and $7 for students and seniors, and will be available at the door.
Dana Andrews of Prosser has the feminine lead of Golde.
Her last role with Valley Theatre Company was as Fruma Sara in that '90s performance of Fiddler on the Roof in which Alexander played Tevye, but she was active throughout the '90s with a now defunct company, Center Stage.
"It's fun, but, being older, it's a lot of work," said Andrews, agreeing with Alexander on that point.
She has three costume changes in the play. "One is more of a peasant costume and my everyday dress," said Alexander. "And then I have a dress for the Sabbath and the wedding scene and a nightgown and nightcap for the dream scene."
Trumble is pulling the costumes from thrift stores, raiding closets and sewing as needed. Rehearsals prove that she is innovative and creative in dressing the characters.
The outfit she has put together for the fiddler, who spends most of the time perched on a roof, suits well. The fiddler is played by German exchange student Bettina Kempf, who has been playing the violin for 10 years and brings that skill with her to the stage.
Kempf, 17, said she tried out for the play because her host sister at Sunnyside High School tried out for a part and is in the chorus. Kempf said she was familiar with the play as her 19-year-old sister played Golde in a German version at their home in Lahr, which is in the Black Forest, two hours south of Frankfurt.
The cast had its first rehearsal on the high school stage Thursday, March 2, but they have been practicing since early January.
The company held the first weeks of its rehearsals in churches and other places where no fees are charged to hold down expenses. About three weeks before opening night, they switched rehearsals to Sunnyside High School, where fees are charged for use of the auditorium.
"The transition to the stage takes the actors some time after practicing without the backdrop and all the sets," said Kurt Reeser of Yakima, the show's producer.
The backdrop, designed and blocked in by Herb and Allison Leonhart of Prosser and painted by cast and crew, lends an authentic touch to the play.
Dana Johnson of the Tri-Cities is directing the large cast, which, with crew, numbers 40.
"I think we have the most talented group of young people on stage I've ever seen in this company," said Andrews, but refusing to compare this year's production with the one of 12 years ago.
"That would be like comparing apples to oranges. But I will say we have great voices this year, a great chorus."
"This is such an amazing show," said Alexander. "All the characters are just so commonplace. They're everyday people you could find walking up and down the streets of Granger, Sunnyside, anywhere. They just happen to be Jewish and there's that edge of fear."