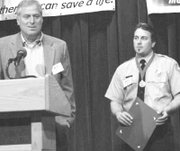 Aron Hunsaker, a volunteer with the Sunnyside Fire Department, was one of 10 honored by the American Red Cross at a Real Heroes Breakfast Thursday, March 9, in Yakima.
Hunsaker was chosen by the Red Cross for saving the life of a two-year-old boy last summer in Sunnyside.
The two-year old, a child of a niece of Benji Aguilar, former Sunnyside City Council member, was found floating face down in Aguilar's pool last summer during a graduation party.
The child was pulled from the pool by brothers, Homer and Steven Romero, who were in third and eighth grade, respectively, at the time.
Hunsaker initiated basic life support measues, was able to get the return of spontaneous respirations from the 2-year-old, and, by the time an ambulance arrived, the boy was breathing on his own.
"No adult saw what happened, and the first I knew was when the Romero boys brought him to the deck and dropped him right next to me," said Hunsaker at the Real Heroes Breakfast yesterday at the Yakima Convention Center.
"He was wearing his EMT shirt so he kinda stuck out like a sore thumb," interjected Jennifer, Hunsaker's wife, who accompanied him to the breakfast.
"It was very emotional," Hunsaker said of the successful rescue.
Hunsaker was nominated for the Red Cross honor by Fire Chief Aaron Markham, who was host captain at Hunsaker's table at the breakfast.
"His actions went above and beyond the duties and training he's received as a volunteer firefighter with the Sunnyside department," said Markham. "He just happened to be there, and his actions, without any tools besides his knowledge and bare hands, made a significant difference in saving this child's life."
The Romero brothers received hero certificates of appreciation from the City of Sunnyside about a month after the rescue operation, and Hunsaker received an award at the city's Christmas dinner.
This year, in addition to Hunsaker, eight Yakima people and one canine were named Real Heroes.
This year's Real Heroes from Yakima included:
-two aquatic specialists, Debbie Wadleigh and Keith Booher, who used an automatic external defibrillator on Oct. 28, 2005 to revive Jessie Noyes, who had a cardiac emergency while at a water aerobics class at the Lions Pool in Yakima. Noyes has since had a quadruple heart bypass surgery and is recovering well. The two heroes were nominated for the honor by Noyes.
-Lt. Bruce Newell and firefighter Shannon Needham, who braved extreme fire conditions to rescue Willy Cox, a wheelchair-bound, double amputee who was trapped in his burning house on May 12, 2004. They were nominated by Fire Chief Dennis Mayor of the Yakima Fire Department.
-5-year-old Dylan DeBlasio, a passenger in a car driven by his father, David, who used a cellular telephone to call 911 to get help for his father, who was having a medical emergency on Feb. 26, 2005. By staying on the line, the 911 dispatcher was able to use a cellular positioning system to locate the vehicle and send emergency respondeers. DeBlasio was nominated by Wayne Wantland, 911 director of the Yakima 911 Call Center.
-Hunter and Wyatt Kellogg, ages 9 and 7, were nominated by their grandmother, Christine Kellogg, who is a brittle diabetic and reaching the point where she cannot tell when her blood sugar level is dangerous. The boys were cited not for any one achievement, but for their daily and constant vigilance in learning how to take her blood sugar level, how to call for help and standing outside her home so the paramedics will know where to go and other important life-saving daily tasks.
-Richard Alamos was nominated by Angela Beaudry of People for People for the assistance he gave at a four-car collision on Dec. 19, 2005. He pulled his car over, called 911 and offered blankets to the victims to keep warm until police arrived. As he directed traffic away from the accident, two oncoming trucks slammed on their brakes, jackknifed and hit another car, engulfing it in a load of apples that spilled. Alamos pulled the woman driver from the car to safety and waited an hour for police to arrive and stayed two more hours to help authorities until more personnel were available to join the efforts.
-Taggar, a dog owned by Gary Pajuoja, was nominated by Rebecca Robinson and Patti Fitzpatrick, Red Cross disaster volunteers who responded to a fire Nov. 19, 2005. The dog had awakened its owner by growling and jumping on his chest, allowing Pajuoja to then pull his mother, Sharon, from the home. Pajuoja then went back inside to bring Taggar out. All three were unharmed.