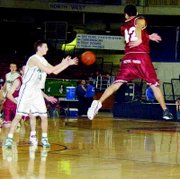 YAKIMA - The late game heroics, like so many of their shots, were missing for Grandview's boys basketball team in a semi-final loss last Friday and a Saturday loss in the third-place game.
In every 16-team, double-elimination State tourney someone has to end the season with back-to-back losses, and such was the case for Grandview, who claimed the sixth-place trophy last week at the 2A State tourney in the SunDome.
But it was oh so close to turning out so very different.
In Friday's 37-34 semi-final loss to Kings, it looked more like a typical Grandview tourney game, as the Greyhounds rallied from a slow start to take a four-point lead over the Knights at 30-26 heading into the fourth quarter.
Anthony Andrews scored two of his eight points to open the final stanza, putting Grandview up by six.
After Kings pounded the ball into 6-9 post man Charlie Enquist for a bucket-two of his 12 second half points and game-high 16-Grandview opted to slow down the game with seven minutes to play.
In last Thursday's quarterfinal win, the 'Hounds started taking the air out of the ball with five minutes remaining, forcing the other team into desperation fouls down the stretch.
No such luck on Friday, however.
Whether it was Kings' vise-like defense or curious officiating-the Knights were whistled for just six fouls for the whole game-on three consecutive trips down the court Grandview tried its stall ball game, only for it to backfire with three consecutive Kings' takeaways.
Grandview Coach Scott Parrish preferred to consider the Knights' swarming defensive pressure, rather than discuss the officiating.
"If I were in your position I'd ask the same question," he said in response to a query on game officiating. "But I'll let you talk about that."
Of Kings, Parrish added, "They picked up the defensive intensity and that caused us some problems."
The end result was an 11-0 run by the Knights that ensured Grandview would be denied in the semifinals for a second consecutive year.
A turning point came with 1:31 to play in the game and Grandview down just 34-32. A.J. Valencia drove through the top of the key and was called for an offensive foul. A call that perhaps could have gone either way, the play proved costly as it was Valencia's fifth foul.
The Knights hit enough free throws from there to seal the win.
Kings was finally called for a foul on a last-second three-point attempt by James Vela. But the three free throws were too little, too late.
The SunDome's rims were again unkind to Grandview, as the 'Hounds mustered just 30 percent shooting from the field. The inability to finish off their open looks to the bucket was particularly costly since Kings blistered the nets with 53 percent shooting in the second half.
Vela led Grandview with 10 points, seven rebounds and four steals. C.J. Lopez added nine, scoring all of his points in the second quarter, which accounted for all of Grandview's scoring in that stanza.
In the 67-59 loss to Vashon Island in Saturday's third place/sixth place game, Grandview finally scored at a clip their fans are used to.
But on defense they struggled with the Pirates inside-outside threat of 6-7 Bryan Amstrup (10 points, three blocked shots and 15 rebounds) and guard Shane Davis (22 points and eight rebounds).
After Davis burned the Greyhounds for 13 first half points Grandview tried to bring defensive pressure. But Amstrup then benefited, scoring eight of his points in the second half.
Grandview trailed just 15-13 with 3:05 to play in the first quarter, following a pair of Brandon Artz free throws.
But Vashon went on a 12-0 scoring spree to go up 27-13 with 6:04 to play in the second stanza.
Much of the damage was done during a two-minute stint when Parrish pulled all of his starters and replaced them with reserves.
During that time frame-the final minute of the first quarter and first minute of the second-Grandview's deficit grew from 17-13 to 24-13.
"We were playing our last day at State and I wanted to give everybody a chance to play," Parrish said of the line-up switch. "I was going to put the starters back in at the first dead ball, but there wasn't any so I had to call timeout."
Grandview never fully recovered from that 14-point lead Vashon built up, though the 'Hounds found something of a second-wind with a 14-8 run-keyed by James Vela's nine first half points-to make it a six-point game at the half.
Vashon opened the second half with an 11-2 run to push its margin back into double figures at 43-29.
Sophomore super sub C.J. Lopez-who hit for a team-high 21 points, 16 in the second half- sank a pair of treys in the third quarter to cut the deficit to single digits.
He opened the fourth with another three-pointer, one of five he hit for the game, and a tourney best 12 treys for all four games.
Brandon Artz followed with a bucket, and suddenly Grandview was back in business, down 48-43 with 6:26 still to play in the game.
But the 'Hounds returned to the cold shooting that plagued them throughout the tourney, hitting just five of their next 21 shots. For the game, Grandview shot just 28 percent from the field, while Vashon shot at a 47 percent clip.
While Grandview's scoring slowed over the final minutes, the Pirates hit enough free throws to stay just enough out of reach.
The Greyhounds' last hurrah came with a pair of Lopez free throws to keep things interesting, down 61-56 with 1:43 to play.
That was as close as it would get, as Vashon held on to the lead and, ultimately, the third-place trophy.
"C.J. kept us in the game a little bit, he kept it interesting," Parrish said afterwards.
"The kids have nothing to be ashamed of, I'm really proud of their effort," he continued. "We came within three points of the championship game."
Playing his final basketball game in a Grandview uniform, senior Brandon Artz was happy his team could come away with a trophy, even if it wasn't the one the 'Hounds initially hoped for.
"It's the biggest letdown in the world," he said of being on the losing side in two consecutive State 2A semifinal games. "After last year we didn't think it could happen again, but it did. But we've got a trophy and these are memories we'll always have together."
Andrew Michels, a senior reserve who saw little action during the season-but was one of those receiving precious minutes on the State 2A stage-said the whole experience "was a lot of fun."
Other than Lopez, the only other scorer in double figures for Grandview (22-6) on Saturday was Vela, who closed his Greyhound career with 11 points and nine rebounds.