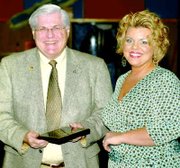 If you went to the Sunnyside Chamber of Commerce Awards Banquet Saturday evening, you knew you were at a party the minute you stepped through the doors of St. Joseph gymnasium.
A gym full of tables for six were decorated elaborately by 36 businesses, who provided table favors and centerpieces that were there for attendees to take home. The head table was backed with a colorful wall of balloons, heaps of items filled two tables for a silent auction and 15 sinfully delicious desserts waited to be auctioned.
And that was only the beginning of a gala evening focused on honoring some of Sunnyside's outstanding citizens.
State Representative Dan Newhouse, offering the invocation, set the tone for the evening as he gave thanks for the award winners who, he prayed, "used talents and gifts you have bestowed upon them and given them energy to use those gifts to make this place where we live better."
The buffet style dinner was catered by Siam Thai Restaurant of Sunnyside, and Charles Alexander of Granger and his co-actor in Fiddler on the Roof, Megan Klarich, offered the audience two numbers from the Valley Theatre Company's production, which opens this weekend in Sunnyside.
Emcee and auctioneer for the evening was Greg Smith.
The suspense of learning who had been chosen as this year's outstanding citizens was eased somewhat during the dessert auction as bidders drove the prices of cakes and cookies up to the point where one strawberry daiquiri cake brought $100. That spectacular bid was topped by $105 offered for eight dozen cookies baked by the Miss Sunnyside Court. All together, the 15 baked donations brought in $885.
And then...it was time for the awards!
The first award of the evening went to Billy and Velda Crane as Outstanding Seniors, who were honored for the hours they spend helping at the Seventh-day Adventist Food Bank, picking up donations from grocery stores, working with the Sunnyside Senior Center where Velda is president and at the Eagles Lodge where Billy serves as a trustee and bingo chairman for the club. The couple also helps the lodge support local causes such as the police station and the hospital.
Karen Shrontz, a teaching school nurse, was named Outstanding Health Care Person for the encouragement she gives to students to enter the nursing profession by teaching health occupations and nursing assistant certification at Sunnyside High School. Shrontz, a registered nurse for 25 years, provides health care for students in the school district, helps lead the Leadership Club Skills USA, volunteers with the Red Cross and volunteers with her students to put on senior citizen dances.
The Outstanding Educator Award went to Jeff Dillon, an Idaho farm boy who knew he wanted to pursue a calling to the ministry. Besides teaching and being a part-time minister, Dillon has coached at Harrison Middle School for the past five years. At the end of last summer, he volunteered to be head coach for his son's flag football team through the parks and recreation department.
Bill and Lisa DeRuyter were honored as Outstanding Agri-Business Persons. They have owned their dairy business since 1993, having more than 2,000 milking cows and more than 200 acres in the Sunnyside area. They were named the Dairy Family of the Year in 1997, organized the first Roller Hockey League four years ago and were active in the Miss Sunnyside program with their daughter, Jacqueline. They were unable to attend Saturday's banquet.
Police Chief Ed Radder was honored as Outstanding Public Official, who received the award for his wide range of experience, which includes not only civilian law enforcement but as service in the Army as a military policeman. Radder established a Law Enforcement Explorer Post in the Sunnyside Police Department in 1980, and he is chairman of the Sunnyside Promise Committee. He compiled a book on the history of the police department which was published prior to the city's centennial celebration in 2002.
Gabriel Garcia, owner of El Valle Restaurant, was named Business Person of the Year. He was cited as a man who came to the United States at age 15 and began restaurant work by washing dishes, eventually graduating to the kitchen and later into restaurant ownership in Yakima with an uncle. Together they opened two other restaurants, in Yakima and Zillah and, finally, with a cousin, opened El Valle in Sunnyside.
Carol Stone, one of Sunnyside's new council members, was honored for Outstanding Community Beautification. The endless hours she spent planting flowers and sprucing up the Fifth Street railway guard rail were noted, as well as her dedication to Sunnyside and never-give-up attitude.
Dennis Browning, a realtor and life-long resident of the Valley, was named Outstanding Volunteer. He was cited for his service as a member of the Sunnyside Kiwanis Club, a member of the realtor ethics board, a Young Life fund-raiser volunteer, leader of a men's Bible study, leader of mission trips to a Navajo church and school and chief cook at a monthly breakfast for the men of his church.
Dennis and Vicki Welsch, owners of Digital Creations, received the Outstanding New Business award. They have helped many local organizations with their creativity and financial assistance. The plaques that were presented to all the award winners at Saturday's banquet were made and donated by the couple.
Mary Ann Bonny, director of the chamber, coordinated the banquet with her crew, which consisted of Linda Bordwell, Carol Newhouse, Lucette Garcia, Michelle Mensonides and Brezzi Campos, president of the chamber