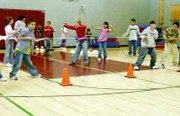 Chief Kamiakin and Outlook Elementary schools are hosting a joint family health and fitness night this Thursday from 6:30 to 8 p.m. Outlook and Chief Kamiakin students and their families are welcome to attend.
Mark Moore, health and fitness specialist for Outlook School, said between 2,000 and 3,000 people usually attend the event, which is being held for the fourth time.
Students and their families will get the chance to ask questions and get information about medical, dental and mental health care, as well as nutrition and healthy snacks for kids.
Kids and their families will also get the chance to participate in activities students do in their health and fitness classes.
"It's just going to be a lot of fun," said Moore, who noted the activities include a tug-of-war, hula hoops, juggling and a variety of other things.
Harrison Middle School's Mariachi band will perform prior to the activities from 6 to 6:30 p.m.
Chief Kamiakin's band room will feature dance and gymnastic activities, too. Gymnists and dance instructors will be teaching hip hop dancing and gymnastics to interested students and parents.
Information will also be available on HIV and AIDS for parents, too.
Moore said in the past parking has been a challenge with all the people who've wanted to attend the activity night.
But this year, he said parents will be able to park on the soccer fields near Chief Kamiakin and police and police explorers will be out there to direct traffic.
"It'll be easier to park this year," he said.
Moore said the theme of the night is fighting childhood obesity, which has started to become a big problem.
"This could be the first generation of kids that could not outlive their parents," Moore said in terms of life expectancy.
He said soda and junk food combined with a lack of exercise is the reason so many kids are becoming obese.