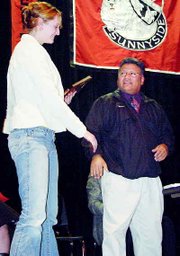 It was only fitting that Steve Sanchez received an award at Monday night's Sunnyside High School winter sports awards ceremony. After all, he is a two-time state wrestling champion.
Sanchez took home the award for most inspirational on the Grizzly wrestling team. Michael Graham was awarded the team's captain award.
Other wrestlers who received awards were Isaac Romero, who was named the team's most valuable wrestler; J.T. Gonzalez, who won the team's most improved award; and Steven Romero, who was awarded the team's outstanding JV wrestler award.
The Sunnyside boys basketball team certainly made a name for itself with its new run-and-gun style of offense this season.
The Grizzlies were led by the player voted their most valuable - Derrick Simmons, who coach Steve Urrutia said played hurt and proved how valuable he was to the team.
Ryan Engel earned the team's captain award for his leadership throughout the season. James Baysinger was the team's most inspirational player for his contributions. Nathan Cornelius was deemed the team's most improved player, and Brandon Coleman was given the coaches award.
On the girls basketball side, there was no question who the team's most valuable player was. She only led the Lady Grizzlies in scoring several times throughout the season. Senior Talia Spini earned the award for her outstanding play down low.
Fatima Ruelas took home two of the Lady Grizzlies' awards, earning the captain's award as well as defensive MVP. Freshman Katie Wutzke was named most inspirational, and Vanessa Torbay walked away with the team's coaches award.
For the Grizzly bowlers, Veronica Uribe collected two awards. She earned the high average award, and she and Katie Weets each received captains awards.
On the Grizzly swimming team, Alexander Henry was awarded most improved honors and Zile Wagner received the coaches award.
The Grizzliettes' Jacqueline DeRuyter won the team's captain award. The award for most improved went to Jessica Alvarez. Rebecca Barrios won most inspirational honors, Jerica Smith won the best dancer award and Maritza Mendoza won the coaches award.
Rally squad members weren't left out, with Addy Hernandez taking home the team's spirit award. Veronica Romero won the team award, and Casandra Romero took the captain award.