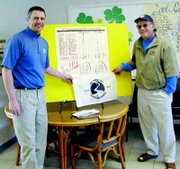 Cream rises to the top, much the same way Black Rock Creek's membership elevated their game this past weekend in the annual Ryder Cup competition against Toppenish's Mt. Adams Country Club.
The Sunnyside area golfers, after a tight first-day match on Saturday, in which they built a slim lead of 7.5 points to 6.5, broke open the two-day competition on Sunday. Playing a heads-up, match play format, Black Rock Creek won 10 of the 14 individual matches Sunday to pull away for a 17.5-10.5 victory.
The Ryder Cup win was Black Rock Creek's third consecutive victory over the Toppenish golfers, and gives the Sunnyside membership a 3-1 advantage since the competition was started four years ago. Mt. Adams won the initial competition, which was staged in 2003.
In Saturday's opening 'best ball' competition, staged at the Mt. Adams course, Black Rock Creek forged a 5-2 lead. The Sunnyside course's resident pro, Jeff Bender, and Black Rock Creek's Bob Hall-arguably the top amateur at the Sunnyside course-anchored the early advantage by pairing up to defeat Toppenish club pro Rich Farrell and amateur Frank Knychief. The four other 'best ball' victories claimed by Black Rock Creek came from the duos of Bud Schatz and Ty Schatz, Balbino Benitez and David Stokes, Gary Hutchins and Louis Alcala, and Perry Uchida and Mike Clark.
Saturday afternoon's matches, also staged at Mt. Adams, switched to an 'alternate shot' format. The Toppenish golfers closed the three-point gap to trail by just a 7.5-6.5 margin, by winning four of the seven matches and splitting one other pairing.
Bender/Hall and Benitez/Stokes came away with the only wins for Black Rock Creek in the alternate shot competitions, although Hutchins/Alcala halved their point with the Toppenish duo of Steve Smythe and Bob Greene.
The Toppenish winners in the alternate shot contests included Mike Chambers and Keith Grace, Javier Valdez and Greg White, Joe Champoux and Bill Harrison, and Willie Edwards and Connie Besel.
Day two action was switched to the Sunnyside course, and the Black Rock Creek members took advantage of their home turf...winning 10 of the 14 match play competitions to sock away the 2006 victory.
Bender and Hall again came up victorious, recording wins over Farrell and Greene, respectively.
In the four years of the Ryder Cup competition, both Bender and Hall have compiled perfect 12-0 records against their Toppenish counterparts.
Sunnyside's eight other victories on Sunday came from both of the Schatzes, Hutchins, Juan Guerrero, Uchida, Miguel Puente and Alcala.
Toppenish picked up its four Sunday wins from Champoux, Valdez, Harrison and White.
There is no prize money that will exchange hands as a result of the annual competition between the two Lower Valley golf clubs. The prize, for Black Rock Creek's golfers, is that Toppenish's golfers must fly one of the Black Rock Creek pin flags on the ninth green at Mt. Adams for an entire month.
For those who don't golf, that's kind of like rubbing your opponent's nose in it.