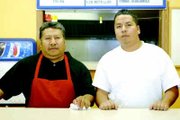 Hoping to bring some California style Mexican food to Sunnyside, the Saavedra family opened Taqueria La Picosa at 1012 Lincoln Avenue last Saturday.
Roberto Saavedra Sr., his wife Liusa and his son Roberto are hoping their style of food will be a success here in Sunnyside. Saavedra Sr. has worked in many different types of restaurants in his life. Those include French, Italian and Mexican restaurants.
Saavedra and his family aren't strangers to Sunnyside. They lived in this area about 10 years ago before moving to California. Saavedra worked in the fields around Sunnyside.
"I liked it here before," Saavedra Sr. said. So it made sense for him and his family to come back.
"We came back here to open a restaurant," Saavedra Jr. says. "We didn't know where we were going to open it but we knew we wanted to open one."
That place now is the bright yellow building on Lincoln Avenue.
The biggest difference Saavedra Jr. says between his restaurant and others in town is their style. "We make our burritos California style," he explained.
He said his burritos are bigger and include the rice and beans in the shell, with sour cream, cheese, lettuce and Pico de Gallo sauce.
Saavedra Jr. also said they will be serving Tinga. Tinga is shredded chicken with onions served with chipotle sauce.
The Shrimp Cocktail at Taqueria La Picosa will also be a bit different. Clamato juice will be used as well as cilantro, onions, sliced jalepeños and regular cocktail sauce.
Taqueria La Picosa will be open seven days a week from 9 a.m. to 9 p.m.
"Business is doing good," Saavedra Jr. said. "The people are happy."