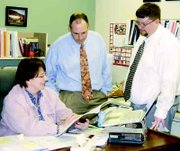 Pioneer Elementary School first grade teacher Maria Hernandez has 19 years of teaching experience.
Hernandez has worked in the Sunnyside School District for the past 12 years and prior to that worked in the Toppenish School District for seven years.
She and Sunnyside High School literacy coach Heidi Hellner-Gomez will be the district's newest assistant principals when the 2006-07 school year starts.
Hernandez, 43, will become Outlook Elementary School's new assistant principal while Hellner-Gomez will become the high school's new assistant principal.
Hernandez said her interest in moving to the administrative side of education came after she had the chance to supervise the district's summer school program. She's supervised the program for the past three years, she said.
"It's the same role," said Hernandez, of working as an assistant principal and supervising summer school.
She said while she enjoys teaching students in her classroom, as an administrator she'll get the chance to affect more students because all the school's students will effectively be hers, and she'll be able to help teachers teach their students.
"(I'll get to) affect learning on a greater scale," Hernandez said.
In order to move from teaching to administration, Hernandez had to go back to school to get her principal credentials. She already had a Master's degree, she said. She's working on earning her credentials from Heritage University.
Hernandez will replace K.C. Mitchell as assistant principal, who will become the new principal after long-time Outlook Principal Cathy Mears retires at the end of the current school year.
While making the switch from teaching to administration has been a challenge, Hernandez said it's been a slow process.
"I think it's been a gradual change," she said.
Hernandez said she's looking forward to officially starting her new position in July. She even lives closer to Outlook than she does to Pioneer, so the drive won't bother her, she said.
Realignment of schools and grade levels with the addition of Sierra Vista Middle School to the district means many teachers have been moved around, Hernandez said. But it's a challenge she's looking forward to.
"There's lots of change on staff," she said.
Hellner-Gomez agreed, and said that's going to happen when a district is growing.
"When a district is growing the way we are there's going to be a lot of movement," Hellner-Gomez said.
Movement is why at the high school, Hellner-Gomez, 38, will move into one of the school's three assistant principal spots. Current Assistant Principal Charlie Diaz is moving to Sierra Vista to take the new school's assistant principal position, she said.
Hellner-Gomez, who has spent all of her 13 years in education in the Sunnyside School District, said she's looking forward to taking the new position.
"I'm very excited about where we're going as a district," she said.
Hellner-Gomez, like Hernandez, is currently working on earning her principal credentials from Heritage. In the past she's taught high school English, leadership and drama among other things.
The internship she's doing, as part of her education through Heritage, has given her a lot of insight into what administrators do on a day to day basis, though she said she had heard a lot about what administrators do.
"I'm very impressed by the administrative team at the high school," Hellner-Gomez said.
One of the things she said she's going to work on when she begins her new position is continuing parental involvement at the high school.
A big thing will be "letting them know we want them there," said Hellner-Gomez of parents.
Like Hernandez, Hellner-Gomez will also begin her new job in July, and even though students will be out of school on summer vacation, both new administrators will have their work cut out for them.
Hellner-Gomez said summer months are busy as schools prepare for the new year by setting goals, implementing ideas for the coming year and hiring new staff.
But Hellner-Gomez said she's ready for the task.
"I've really liked this year as an intern," she said.