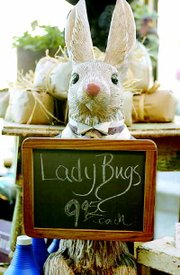 Lenette Roehl recently expanded her plant and landscaping business and now occupies a space in the mini-mall on Sixth Street in downtown Sunnyside.
Roehl, a member of the Sunnyside community since 1982, has been operating her business, Garden Girl, out of her home for about a year now. Last year she displayed some of her items at the mini-mall twice, once in the spring and once in the fall.
"It was more of a promotional thing for my business at home," she said.
She said people showed some interest in her things and with some encouragement she decided, "I should just do it."
So she took her many years of garden and landscaping experience and started working out of the mini-mall at the beginning of this month.
"I'm having a lot of fun," she said. "It's really good. People have been very nice and encouraging to me."
Garden Girl is open six days a week, Monday through Saturday, from 10 a.m. to 5:30 p.m.
The small corner of the entrance to the mall is covered with perennials. "Perennials are my favorite," she said. "With perennials you can always have something blooming in your yard from spring through fall."
She also has annuals and will soon be selling herbs and vegetables. No seeds though, only plants.
Roehl likes to describe her shop as carrying only her favorite that do the best in this area. "It's a very small shop with all my favorite things in it," she said.
She is well stocked on shrubs, flowers, house plants, spirals and topiaries. She does carry seeds for two of her favorite things, Cinderella pumpkins and chocolate morning glorys.
"They're beautiful," she said of the morning glory plants, adding the Cinderella pumpkins grow to be huge.
Roehl also sells hard goods such as pots and garden decorations.
You can find just about anything at Garden Girl but if you can't find it and it's available somewhere, she can get if for you, she says.