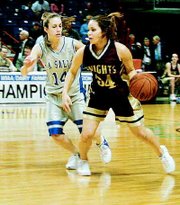 Emily Hernandez, a senior at Sunnyside Christian High School, has been selected by the sportswriters and coaches of Washington State to compete in the Washington State Coaches Association "All Star" game this year.
The game will take place Saturday, March 18, at 1 p.m. at Thomas Jefferson High School in Federal Way.
Hernandez was one of 60 top senior athletes chosen to compete. Rondelle Guthrie from Zillah was also chosen.
There will be three all-star games this Saturday, the B/1A game, 2A/3A and the 4A game. In the B/1A game, Hernandez will be teamed up with players from the east side of the mountain, mixing in with the 1A schools, and playing against the west.
Hernandez found out she was invited last Tuesday. "I've never even heard of it so I was pretty happy," she said. "It's really an honor."
She said she is excited about the competition she is going to face. "In our league, some games aren't as competitive and it's going to be fun playing against girls with really good abilities," Hernandez said. "I'll be able to test my ability against theirs."
This will not be Hernandez's last game. She has been offered a scholarship from Wenatchee Valley Community College and has made a verbal agreement to play for Coach Jessica Schutt, now the coach and AD at Wenatchee and who is an alumnus of Sunnyside High School.