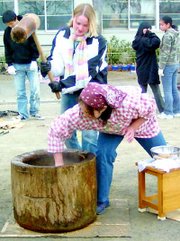 Last November, Pioneer Middle School Assistant Principal Jennifer Allen didn't speak any Japanese. That wouldn't have mattered much, if she hadn't planned to go to Japan.
For three weeks at the end of 2005, the Sunnyside educator spent time in Akishima, Japan with 20 educators from around the U.S. as part of the Japan Fulbright Memorial Fund teacher program. Allen said 200 educators went total, with each group of 20 going to their own host cities.
"Overall, we're more similar than we are different," Allen said of the educational systems in both countries.
While in Japan, Allen got the chance to visit schools equivilant to elementary, middle and high schools, she said. The group also got to visit a college in Japan that prepares teachers.
Despite her preconceived notions of how students in Japan are very disciplined and schools are very rigidly structured, kids and their teachers are very much the same as they are in this country.
"Their kids are just like our kids," Allen said. "Teachers care about kids the same way."
One thing Allen said Japan does better than the U.S. in education is nurture children's growth in every facet.
"The thing that I really like about the schools over there is there's a big emphasis on educating the whole child," Allen said.
Students begin to learn about important things such as agriculture, art, music and even swimming in elementary schools in Japan.
Allen said they call that developing "kids with healthy minds."
In this state, many schools have had to go away from art and music programs due to No Child Left Behind and the WASL, Allen said.
Not only are Japanese kids involved in art and music, most are involved in after-school activities, too.
Allen said most students participate in some form of after-school activity, whether that be sports or home economics.
"That really impressed me," she said.
Similar testing
Like the WASL, Allen said students in Japan take tests that really affect where a student will end up, either in high school or college.
Students take tests in the 9th grade that help determine where a student will go to high school.
Allen likened the test to the 10th grade WASL. However, she said schooling seems to be more important to the Japanese than it is to Americans.
"School is very important in their culture," she said.
If that weren't enough, in the 11th grade, Japanese students take a test similar to the ACT or SAT test that helps determine where they'll go to college.
Allen said there is a lot of parental pressure to perform well on these tests.
But Japanese students have help in their war on test scores. After-school test schools, called jukus, help students cram as much information in their brains as they can.
According to estimates, as many as 60 percent of Japanese high school students attend jukus.
Other similarities
In Japan, Allen said teachers are highly respected. And with Japan's birth rate declining, the number of positions available is declining.
Like teaching in America, teaching in Japan doesn't come with a lot of financial rewards, Allen said. However, teachers in more expensive cities, like Tokyo, receive an additional stipend to help offset the high cost of living.
A one-bedroom apartment in Tokyo can cost $300,000 to buy. That cost would take a teacher a few decades to be able to pay off, Allen said.
With educational standards being set in each state, Allen said the U.S. is getting closer to what Japan has implemented in its schools - a national curriculum.
That means when a student in one part of Japan moves to a different island, he or she can jump into a class at just about the same spot they left.
Sharing what she's learned
Since returning in December, Allen has given presentations to every grade level at her school. Each of the presentations has shown several of the aspects of Japanese culture to present similarities and differences to the local students. Allen also made a video of her experiences.
As Allen was in Japan, her Sunnyside students were able to follow her online journal of activities, which she updated as time and access permitted.
"It was really fun for the kids," Allen said, noting that her postings would be printed off the Internet and put up on a bulletin board.
Allen brought back about 1,000 coins, enough for all her students and the school's staff members. The five yen coin, which has a hole through the middle, is considered good luck because the Japanese word for the coin sounds similar to the word for luck.
Though that meant bringing back a lot of coins, Allen said it was something she really wanted to do.
"It was worth it to me to get something for everybody," Allen said.
In April, a Japanese teacher, whom Allen only referred to as Kyoko, will visit Sunnyside and help teach students at Pioneer. Kyoko will stay in Sunnyside until early June.
"She cares about kids and she knows English," Allen said.
Allen said at the end of Kyoko's visit, the school will hold a community event so students can show family, friends and community members what they've learned.
Allen said one thing that's stuck out in her mind is that everybody realizes how much smaller the world has become with the advance of technology.
She said most people have the same hopes and dreams for their children from one country to another.
"That's the same in any country, I'm sure," Allen said.
Allen said her experience in Japan was one she'll never forget, and she'd love to go back if she gets the chance.
"I would go back in a heartbeat if I had the opportunity," Allen said.
But if she's going back she'll have to make sure she's got batteries for her camera.
"It was definitely the trip of a lifetime," Allen said. "I took over 1,000 pictures.