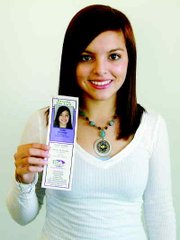 Fourteen-year-old Sunnyside High School freshman Aarika Hernandez isn't old enough to drive a car, but this summer she's going halfway around the world.
Hernandez, a member of Sunnyside's Grace Brethren Church, will spend the summer on a mission in Cambodia.
"I really wanted to teach people about God," said Hernandez of why she chose to go on the mission.
Hernandez will spend two weeks going through a mission "boot camp" in Florida before traveling to Cambodia, where she'll spend time at an orphanage. The trip will last from June 21 to Aug. 11.
While in Cambodia she'll help put on sports camps and teach children English and about Christianity.
"I pretty much could have gone anywhere," Hernandez said, who noted the group she's going with has mission trip possibilites to places like Belize, Hondurus and Iceland, among other places.
So why Cambodia?
Hernandez said she has always liked working with children and the chance to work at an orphanage was one she wanted to take.
Hernandez's mission is through a group called Teen Missions International. The group, which was formed in 1970, has sent more than 30,000 people on missions around the world.
She said she's wanted to go on a mission trip for a few years now, but her parents wouldn't let her until she was old enough to know what she was getting herself into.
Hernandez said she's had cousins who've gone on trips through Teen Missions, and they said the experience was great; that's why she chose that group for her mission trip.
The trip, however, won't come cheap. Hernandez is responsible for coming up with the $4,000 it will take to go on the mission.
She said she and her family are going to do a number of fund-raisers to raise the necessary money. Car washes and yard sales are already in the works, she said.
She said donations can also be made to help foot the bill for the trip. Even though the mission will cost quite a bit, she said it's all worth it.
"It makes me feel wonderful because I'm making a difference in peoples' lives," Hernandez said.
She said being away from her family for that period of time might be a little hard to deal with, but because of what she'll be doing, she'll be OK.
"It'll be tough," she said. "But in the end it'll be worth it."
Those who want to donate money to her trip can call Hernandez at 837-8765.