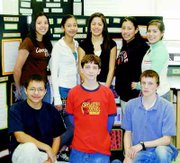 KENNEWICK - Living up to Sunnyside High School's tradition of excellence in science, sophomore Mayra Serna has earned herself an all-expenses paid trip to Indianapolis, Ind. for the Intel International Science and Engineering Fair May 7-13.
Serna placed first in the Regional Science Fair's senior division this past weekend at Columbia Center in Kennewick.
Right now, Serna will be going to the International Science Fair purely as an observer. She can still go as a participant by winning the grand prize at the State Science fair in Bremerton on March 31 and April 1.
Serna's science experiment tested different types of packaging on grape nutrients. Serna said she thought of performing the experiment while eating grapes after noticing they'd been out for a while.
"When I tasted one, it tasted really bad," she said.
Serna said between now and the State Science Fair she plans to keep working on her experiment.
"I'm going to continue my experiment still and see if there is any change," Serna said.
Not only did she win the trip to Indianapolis, but she won money as well, $375 in all, she said, for winning a variety of different awards.
"I was shocked," she said. "I didn't expect it."
Though she won the money herself, Serna said she doesn't plan to keep it all. Some will go to her mother, she said.
Though Serna was the highest placer of all the Sunnyside High School science fair participants at Kennewick, there were others who won awards, too.
In the ninth grade division, Sunnyside's Elvira Chiprez and Cindy Gudino placed second and third, respectively. All the honorable mention placers in that division were Sunnyside students as well.
Johnathan Homrighausen, who won honorable mention honors in a National Management Association's special awards ceremony, credited Joyce Stark for her abilities as a science teacher and coach.
"Ms. Stark is a great science fair coach," he said. "She's not some boring, old teacher. We can actually talk to her."
The Sunnyside students have been spending a lot of time with their teachers. Stark said she and her students worked into the evening for several days before the Regional Science Fair.
"I can provide the leadership, but they have to spend all the time (working)," Stark said, crediting her students for their hard work and innovation.
Freshman Marcus Mendez was one of the students who was very innovative among those at the Regional Science Fair.
Mendez's project had to do with hydrogen fuel cell cars, he said. "My project was up there with some of the juniors and seniors," he said.
His project won honorable mention in the ninth grade division. He also won special awards and earned himself $90 for his work.
Harrison Middle School students were not to be left out, as eighth grader Kristen Wedam took second place in the eighth grade life sciences category. Eric Desmarais took third in the division.
In the eighth grade physical sciences category, Sunnyside's Anthony Aguilar took third place honors.
Stark said though one student is already going to nationals, others still have a shot at winning a trip.
"We have an observer so far," she said of Serna. "But we're not done yet. She wants that grand prize."