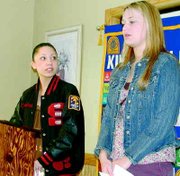 Elected state representatives, approving or rejecting proposed legislation.
Sounds like Olympia, doesn't it?
But for one week last June that was actually the VFW Auxiliary-sponsored Girls State, held at the Central Washington University campus in Ellensburg.
Sunnyside High School students CaSandra Romero and Capri Miles were among 400 girls from around Washington who participated in Girls State last year.
Wednesday morning they shared their experiences with Sunnyside Kiwanians.
"You don't really understand the way our government works until you're put in that position," Miles said of the simulated government proceedings at Girls State.
The structure mirrored the U.S. federal government, with a House and a Senate.
Each floor in the dorms where the girls stayed were called cities. Roommates were divided between Nationalist and Federalist parties, Romero explained.
Campaigning for proposed legislation became intense at times, noted Miles.
"There were some girls who got into it so much they cried if their legislation didn't get approved," she said.
But some bills did get through, such as legislation granting permission for seeing eye dogs to accompany their owners into public places. Another piece of legislation approved authorized colored license plates. Miles noted that both are actual pieces of legislation in Washington state.
But Girls State wasn't all about the political process, with programs scheduled for games and interacting with participants from around the state.
Miles said the selection process for Girls State included a reference from a teacher, followed by an application and five interviews.
"It was fun," Romero said of the friendships and lessons acquired during Girls State. "I'm still keeping in touch with the friends I made there."