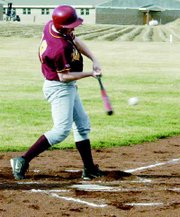 The Sunnyside Christian High School baseball team spotted the Wahluke Warriors a four-run lead before coming back in dramatic fashion to pull out a season opening 7-6 victory.
Justin Burgers was the starting pitcher for the Knights Tuesday and he struggled as the Warriors built a 3-0 lead over three innings. Burgers walked three batters in the first inning and gave up an RBI double. An error enabled a second run to score.
He finished with four walks and four strikeouts before Matt Haak took over in the top of the fourth with the Knights down 3-0.
Haak did a good job, only allowing a walk but that player ended up scoring.
"After Haak walked him, he stole second, then stole third and then scored on a wild pitch," SCHS Coach Jeff Bosma said.
That made the score 4-0 to start the bottom of the fourth. After the Knights scored in the bottom of the fourth, they would have to wait until the sixth before doing anything.
Aaron Van de Graaf came in to pitch to start the fifth inning. "I was really impressed with him," Coach Bosma said. "We're looking forward to seeing him again. He's going to see a lot of innings."
Van de Graaf, making his high school pitching debut, recorded seven strikeouts allowed just one hit in three innings of work.
Van de Graaf (1-0) also picked up the win.
In the sixth inning, the Knights made their comeback. Down 5-1, John Bosma hit a double to right field to start the inning. Jake Bosma then hit a double to right and brought his cousin home. Luke Meininger reached base on an error and Brandon De Vries reached base on balls. Jake Bosma scored on a wild pitch to bring the score to 5-3.
Ted Berkompas walked and then Van de Graaf singled home Meininger and De Vries scored on a wild pitch. The Knights had tied the score.
In the top of the seventh inning the Warriors scored again to take the lead by one run.
In the bottom of the seventh John Bosma started the rally with a single. His cousin Jake reached base on an error and then Meininger singled home John Bosma to tie the game. Jake Bosma stole third base and then scored on a passed ball for the win.
"We played hard all seven innings and never gave up," Coach Bosma said. "We're hoping for more of the same all season."
Jake Bosma finished 2-for-4 with three runs, three stolen bases and a double and an RBI.
John Bosma also was 2-for-4, with a double and scored two runs. De Vries was 1-for-2 with a run and a double, and Meininger was 1-for-4 with an RBI.
"Meininger did an outstanding job behind the plate," Coach Bosma said. "He did a nice job of keeping the ball in front of him and picked off a guy trying to steal third base."
The Knights (1-0) host Morton this Saturday, March 18, at 1 p.m.