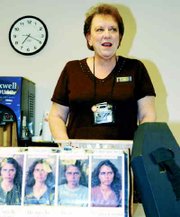 "Wake up Sunnyside!" That was the message given to members of Sunnyside's Daybreak Rotary Club Wednesday morning by Mary Mion, a domestic violence counselor at the Lower Valley Crisis Center.
"Domestic violence, sexual assault and child abuse happens here in Sunnyside," she said. "It happens to each and every one of us."
She said if people weren't touched by these things in their homes then they are being touched by it in their pocketbooks.
"Who do you think pays for these judges, the prosecutors and police," she asked. "You do."
She said the statistics for these things are going up every year. "It's a shame Jan and I have a job," she said, speaking of her and Jan Wahl, a sexual assault counselor at the crisis center.
The crisis center helps victims of these crimes. They have a safehouse for battered women and two shelters throughout the valley. "We listen and give them hope," Mion said. "We don't tell them what to do but allow them to make decisions."
There are 12 employees at the crisis center and 10 of them are survivors. They see victims every day and go to schools to talk with children about assault.
Wahl said that one of three girls will be sexually assaulted and one of seven boys will also be victimized.
"These kids are just like all the other kids but they are terribly traumatized," Wahl said.
She thinks the court system is part of the problem, especially the way they make the victim testify in front of their attacker.
She would like to see other methods used like videotaping the victim's statement and then using that in court. This doesn't happen because the accused has the right to face their accuser.
Wahl said that because the victims must testify in front of their attacker, most would rather not do it.
Mion asked for help from the members of the Daybreak Rotary. It's not just money they need help with, she said. They want people to talk about sexual assault and domestic violence to people. Get the topic out there and not treat it as a dirty secret, she said.
"If we don't let people know it's not OK, it won't go away," Mion said.