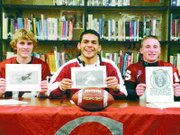 CONNELL - Three of the Mabton 'Lil Vikings brought home tournament titles from Connell last Saturday.
All told, the youth wrestling club had 20 of its grapplers comnpeting at Connell. Eight of them earned "top three" showings, including titlists Bobby Flores, Dante Cruz and Rafael Martinez.
Flores and Cruz also won championships in their respective weight classes at the season opening tournament in Finley two weekends ago. Both, Flores and Cruz compete in the 7/8-year-old division, at 62 lbs. and 98 lbs., respectively.
Martinez won top honors at Connell in the 9/10-year-old 123-lb. weight class.
Second place finishers at Connell for the Mabton youth wrestling club included Desiree Zavala (7/8-year-olds-58 lbs.), Desany Guerrero (7/8-year-olds-80 lbs.) and Daniel Vargas (11/12-year-olds-88 lbs.).
Mabton's Ventura Rodriguez (5/6-year-olds-47 lbs.) and Gilbert Martinez (7/8-year-olds-48 lbs.) brought home third place finishes.