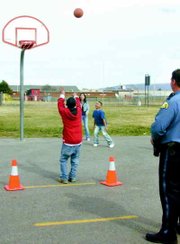 Drug and Alcohol Prevention Week was in full swing at Harrison Middle School Wednesday as students dined on barbecue, listened to rap and tried to function normally while under the influence...of Fatal Vision Goggles.
The eyepiece simulates the effects of drinking half a case of beer.
And students donning it missed a basketball hoop by yards and squashed traffic cones into the grass as they tried to drive a golf cart along a designated path.
"It looked all weird," said seventh-grader Rica Parramore, climbing out of the golf cart.
"I couldn't even tell where the cones were," she said, after smashing over and through more than several as fellow students hollered, "She killed two more!"
"Your brain knew you could do it, but your body wouldn't let you because it has the reaction (to the simulated alcohol-intake)," she said, adding, "It was easier without the goggles."
Parramore was one of only a few students who made the drive without the goggles to test her driving expertise. She aced that test, but, with the goggles, mowed down traffic cones like a...well, like a drunken sailor.
She wasn't alone. No student wearing the goggles finished the golf cart course without incident, incidents that would have been serious if they had been drinking drivers in a car on a road.
"It gets confusing," admitted a goggled Kevin Alvarez, another seventh grader, who was trying to sink a basket and failing miserably. He said it wasn't a feeling he'd like to own.
Uriel Velasco was one student who was enjoying Wednesday's activities, which included listening to rap provided by the school's security officer, Garin Moore, acting as DJ during the separate lunch hours of each grade at the school.
"We get to see activities are fun and drugs and alcohol aren't," said Velasco.
"Yeah, they mess up your life and make you a bad person," agreed Beto Bermudez.
"It (an activity) keeps your mind on something else instead of drugs," said Jacob Almaguer.
The day was planned by Itza Reyes, the middle school's prevention specialist who coordinated not only Wednesday's events, but the entire Drug and Alcohol Prevention Week.
"On Monday we had Fred Coulter, a mental health counselor, who talked to us about suicide prevention," said Reyes. "Ron Glodski, a nationally known speaker, was the key presenter Tuesday, talking about drugs and alcohol abuse and bullying. And the kids are really looking forward to a basketball game on Thursday that will be played by the staff and students."
The school's staff were strong supporters of the week-long event that all hope will make a difference in their students' future. In addition to Reyes and music-maker Moore, the school's kitchen crew served a barbecue lunch of fresh fruit, cookies and cheeseburgers with all the trimmings.
Several men, including Izzy Zavala, took turns at the grill to turn out thick, juicy burgers and hot dogs, served with fried onions and mushrooms.
And, as usual, the school's drug and alcohol prevention efforts were supported by the Sunnyside Police Department in the persons of Chico Rodriquez and Joey Glossen. Rodriguez kept the golf cart driving test on track while Glossen put the students through their paces on the basketball court.