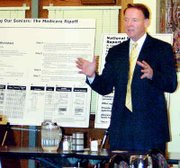 Wrapping up his official campaign kick-off tour, Democratic Congressional candidate Richard Wright stopped in Sunnyside Wednesday night to talk about what he sees wrong with Congress and the 4th District and why he's looking to unseat six-term Congressman Doc Hastings.
"I'm running for office because I'm tired of business as usual," Wright said at Snipes Mountain Brewery's Summit Room. "Hastings is part of the problem in Washington, D.C."
Wright, owner of Columbia Physical Therapy, which has 11 clinics in Washington, Oregon and Idaho, said health care would be one of the issues he would focus on if elected. He said his 26 years of experience in the business gives him an understanding of the system that most people don't have.
"Over the years this system has changed," said Wright, who graduated from the University of Washington's Physical Therapy School in 1979. "It has evolved into a real crisis."
Wright directly blamed Hastings for the passage of Medicare-Part D, which he called "the most despicable piece of legislation I've ever seen."
Wright shared a story about his mother and her dealing with the plan. He said he told his mother not to sign up for the program because it is too complicated and it wouldn't amount to much in savings.
After he told his mother not to sign up for the program, he said someone came to his mother's house and sold her a Medicare-Part D plan.
All told, Wright said his mother will be paying $43 more a month for her prescription drugs, plus the plan's premium.
"Hastings is directly responsible for this bill getting passed," Wright said.
National security was another issue Wright said he'd address if elected to Congress.
"Our Congress has failed to make this country safer," he said, pointing to a national security report card which gave Congress several Ds and Fs for areas of national security.
Wright touched on the war in Iraq, stating that he'd work to take care of veterans who come back with life-changing injuries.
He said because he's worked in physical therapy, he knows how hard it can be for severely injured people to find meaningful jobs.
Wright said he also knows about war, having had a brother serve in Vietnam.
The strength of the economy was Wright's final point, as he stated that balancing the federal budget should be the goal of Congress and the president.
Wright said Hastings ran on a balanced-budget platform, and has since gone away from his promises of two years ago.
Family-wage jobs are also going to be important to his campaign, Wright said.
"We need to preserve these good paying jobs in our district," he said.
Overall, though, Wright said he wants to connect with voters not as a member of the Democratic Party, but as an American because that's likely the only way he'll get elected.
Wright's getting help from what some might consider an unusual source - his middle school history teacher.
Clark Denslow, a former seventh grade history teacher in Pasco, said he's been helping Wright to understand political history in Washington.
"We've talked a lot about the history of politics in Washington state," Denslow said.
Denslow also said he's known both Hastings and Wright for many years, and feels that Wright better understands the issues.
"I know what the issues are," Denslow said, noting that will help Wright's effort.